Join us at the HDI 2019 Conference and Expo. Jeff Rumburg, MetricNet's Managing Partner is excited to be speaking at the event!
This marks the 25th consecutive year that Mr. Rumburg has been selected as a speaker for the HDI Conference & Expo. For those interested in attending, HDI 2019 is happening April 7-12, 2019, at the Rosen Shingle Creek in Orlando, FL.
Use promo code JOINME, and you can save $200!
Plan to attend the following events!
Monday, April 8 at 8:00 AM
In this workshop, MetricNet's research, gathered from literally thousands of IT Service and Support benchmarks, will illustrate that the vast majority of IT service and support organizations use metrics to track and trend their performance – but nothing more! Unfortunately, in this mode, an IT service and support organization misses the real value of performance measurement by failing to exploit the diagnostic capabilities of KPIs, and the call-to-action potential of KPIs.
DOWNLOAD The Presentation Slides
Wednesday, April 10 at 11:30 AM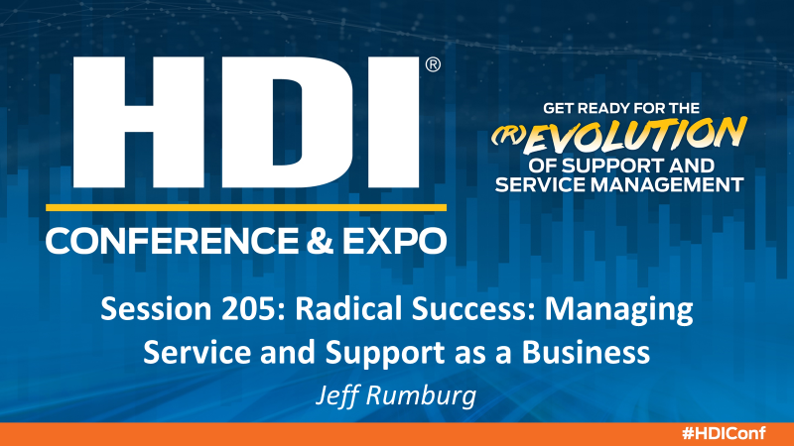 Most service and support professionals are familiar with the operational metrics of the industry. KPIs such as cost per ticket, first contact resolution rate, and customer satisfaction are well understood and almost universally applied. Yet even service and support centers that have mastered these metrics and achieved a degree operational success often struggle to gain visibility and credibility within their own enterprises. The all-to-common result is that service and support centers operate at a subsistence level.
The business world offers a potential solution to this dilemma. When a business isn't performing well, investments dry up because there's no reasonable expectation of earning a profit. By contrast, businesses that are profitable receive adequate funding because they can attract investment capital seeking a positive return. So, what would happen if IT support operated more like a business, and could attract funding and other resources based upon their profitability?
DOWNLOAD The Presentation Slides
Thursday, April 11 at 11:30 AM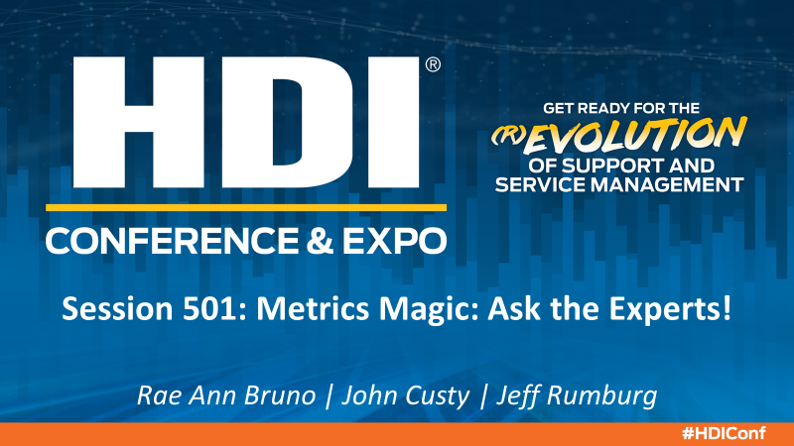 ITSM is now a decades-old discipline. So why, then, do most company services— including human resources and facilities management—still operate with ad hoc processes and little understanding of key success factors? There's an enormous opportunity for IT support professionals to provide leadership and enhance their careers by imparting the lessons of service management to non-IT enterprise services. This session will show you how! You'll learn how IT can lead the way in enterprise services, identify success factors for the emerging enterprise service desk, and explore case studies in successful enterprise service management. The enterprise service desk is a once-in-a-generation career opportunity that's not to be missed!
Schedule a Meeting with Jeff Rumburg!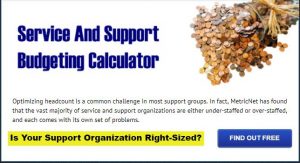 Optimizing headcount is a common challenge in most support groups. In fact, MetricNet has found that the vast majority of service and support organizations are either under-staffed or over-staffed, and each comes with its own set of problems.