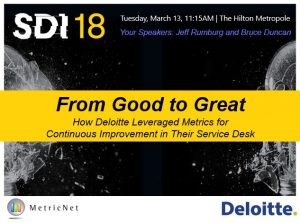 MetricNet is honored and excited to be presenting at the annual SDI Conference! This year, Jeff Rumburg, Managing Partner at MetricNet, will present:
From Good to Great – How Deloitte Leveraged Metrics for Continuous Improvement in Their Service Desk
Tuesday, March 13, 11:15AM | The Hilton Metropole
In 2016 the Deloitte service desk faced a number of serious challenges. Service levels were poor, first contact resolution was way below average, and there was very little accountability in the organization. A benchmark revealed that their metrics discipline was weak, and at the root of many of these challenges. Today, Deloitte has one of the best performing service desks in the industry, and is considered a center of excellence in the company. By maturing their metrics, Deloitte has dramatically improved service levels, first contact resolution rate, and customer satisfaction. Additionally, the implementation of agent-level scorecards has improved accountability, and allows Deloitte to provide very targeted, objective feedback to their analysts! This case study examines how Deloitte leveraged metrics to close performance gaps and become a center of excellence. It will illustrate, in detail, how Deloitte established performance targets, implemented a scorecard, began working toward an enterprise service desk, and drove accountability, to go from Good to Great in less than 12 months!
Request an appointment with Jeff Rumburg at SDI 18!