MetricNet is honored and excited to be presenting at the inaugural Service Management World Conference in Orlando, FL!
This year, Jeff Rumburg, Winner of the Ron Muns Lifetime Achievement Award. one of HDI's Top 25 Thought Leaders and Managing Partner at MetricNet, will present:

October 14-15, 2018
In this workshop, MetricNet's research, gathered from literally thousands of IT Service and Support benchmarks, will illustrate that the vast majority of IT service and support organizations use metrics to track and trend their performance – but nothing more! Unfortunately, in this mode, an IT service and support organization misses the real value of performance measurement by failing to exploit the diagnostic capabilities of KPIs, and the call-to-action potential of KPIs.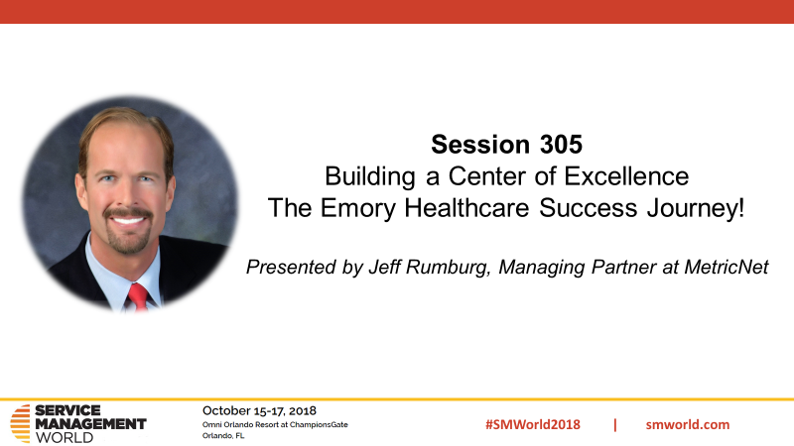 Session 305: Building a Center of Excellence: The Emory Healthcare Success Journey!
Tuesday, October 16 at 3:15 PM
DOWNLOAD THE PRESENTATION SLIDES
In 2016 Emory Healthcare's IT Service and Support organization faced a host of serious challenges. The company was growing rapidly through acquisition. IT support was fragmented and scattered piecemeal across multiple departments. Metrics were immature, ITIL processes non-existent, and there was little accountability in the organization. Additionally, new technologies continued to be rolled out across a complex network of healthcare providers and facilities. In short, the IT environment was chaotic, unpredictable, and virtually impossible to support.
Today, Emory Healthcare has one of the top performing support organizations in the healthcare industry. By maturing their metrics, adopting ITIL processes such as incident and problem management, and creating a system of performance scorecards, Emory Healthcare has transformed IT service and support into a Center of Excellence. This case study examines how Emory Healthcare broke the cycle of reactivity, tamed the chaos, and now delivers a world-class customer experience to tens of thousands of doctors, nurses, and healthcare practitioners across one of the most complex healthcare networks in the world.
Key Takeaways:
-Attendees of this session will learn the following:
-How to break the cycle of reactivity in service and support
-Which ITIL processes yield the biggest benefit
-How to leverage metrics to drive accountability
-How to consolidate support in a fragmented environment
-The importance of messaging in the transformation process
Request a call from MetricNet!