5 Key AI Insights from Service Managment World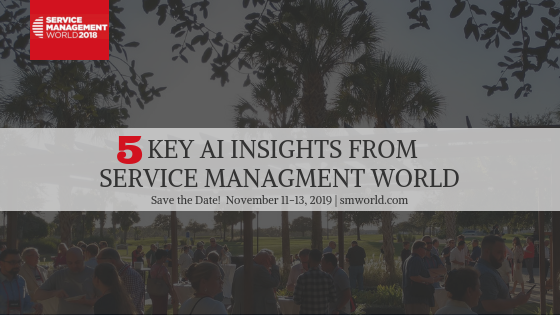 It was about 1PM in Orlando, Florida on Wednesday 10.17.18. I took a few moments (ok maybe closer to a few hours…) to reflect on the past few days in an empty session room that would soon be filled with Service Management World attendees eager to learn about AISM – short for Artificial Intelligence (AI) Service Management. What better time to jot down the 5 Key AI Insights from Service Management World right?
AI has been a hot topic in many of the sessions I've attended this week. Every speaker that had anything to say on AI talked about some of the more cliche aspects (Watson besting Ken Jennings at Jeopardy as an example), but a handful have presented some compelling and, dare I say it, groundbreaking insights that IT organizations can leverage to facilitate a successful integration of ITSM and AISM. Here are the top 5 from my perspective and one that hasn't really gained much traction, but is definitely something to watch.
1. AI is NOT synonymous with Analytics – Patrick Schwerdtfeger kicked off the inaugural Service Management World conference. He said, 'to truly be AI, the technology must have some level of human comprehension AND the ability to learn. Anything else is just really good analytics.' Now this may sound obvious to some of you, but it's important to understand because much of the technology touted to be "AI" on the market today misses the mark on human comprehension and machine learning. Your chat bot does not have to work like Westworld's Bernard to be considered AI, but it does need to understand natural language and deliver contextual results even if the end user changes the intent mid-way through the conversation.
#AI must have some type of human comprehension and the ability to learn. Anything else is just really good analytics. @schwerdtfeger #SMWorld2018

— MetricNet (@MetricNet) October 15, 2018

2. Knowledge is a Prerequisite to AI in IT – Roy Atkinson always has some incredible insights that stick with me after events like these. This time it was 'The most important existing IT service desk capability for AI adoption is … Knowledge Management (KM)'. First, notice the emphasis on existing. Many of your capabilities are linked to technology, so KM may not always be the most important capability. Second, an established and mature Knowledge Management discipline is and will always be a prerequisite for effective AI. Make sure your team knows that knowledge is everyone's job.
@RoyAtkinson: the most important existing IT service desk capability for #AI adoption is… knowledge management#ITSM #SMworld2018 #ESM

— Joe The IT Guy (@Joe_the_IT_guy) October 16, 2018

3. Your AI Strategy MUST Have an Ethics Clause – Ian Aitchison's session was refreshing to say the least. The video he used to illustrate this concept (considering it came from Google) was slightly disturbing. While good AI incorporates human comprehension, things take a dangerous turn when AI mimics human behavior so well that the line between human and machine blurs beyond recognition. I'll use Westworld's Bernard as an example again. His character was built with AI so advanced that the robot believed it was human. And, you probably guessed it, the humans thought it was human too! When you implement any type of AI that's designed to mimic human behavior like Google Duplex, make sure that the user knows, without a shadow of a doubt, that he/she is interacting with a bot.
Keep #AI ethics on your list says @IanAitchison #SMWorld2018

— MetricNet (@MetricNet) October 17, 2018

4. The Consumerization of AI is Coming – Another interesting byte from Ian Aitchison's session was "If you ignore AI, it will become a challenge rather than an opportunity." Consumer adoption of technology is unstoppable. As an example, I now have more than 100 connected devices in my home and that number continues to grow. If my family was to describe me, early adopter would be an understatement! The point is, once the users you support start using AI at home, they will expect it at work. And, after seeing the dramatic impact BYOD had on organizations in the past, is it really that far of a reach to say that we may start to see BYOAI in the future? Not at all! Moto has Alexa mods for their phones and Amazon is set to release a version for vehicles early next year! Heads up folks – if AI at home precedes AI at work, you will be put on defense (reactive/fire-fighting mode) when you could have been playing offense (proactive mode) from the start.
If you ignore #AI, it will be come a challenge rather than an opportunity. @IanAitchison #SMWorld2018

— MetricNet (@MetricNet) October 17, 2018

5. Don't Implement AI for the Sake of Implementing AI – The session room I was sitting in when I started to write this came to life around 2:45PM. I'd like to call your attention to some wise words from Anurag Gurtu – 'Three failed attempts and a user will never use the technology again'. Anurag was discussing AI Chatbots when he mentioned that. We are already an impatient and unforgiving society when it comes to the end to end user experience, so I'd venture to guess that number is going to drop as consumer technology gets more advanced. The problem is that AI is this shiny new technology that everyone wants right now. So much so that they forget that the technology is only as good as the knowledge it uses to function. So #5 is essentially an extension of #2. If your knowledge management discipline is weak, chatbots will fail. So, how do you know if your chatbot will be successful? Here's where to start – you should be tracking both internal agent assisted interactions and external end-user self-service interactions. You're looking to baseline high performance on at least the following metrics:
Link quality (or link accuracy) – This agent assisted KM metric is simply the % of incidents where the agent attached the appropriate knowledge article to the incident. It's an indication of the quality of knowledge available to agents. A low link quality number could indicate that your knowledge articles are incomplete, outdated or your search functionality is sub-par.
Self-service success rate – This end-user self-service metric is simply the % of customers that used the self-service knowledge base and found helpful knowledge that solved their problem without having to failover to an agent. Some advanced analytics can estimate this number, but there is an easier and less costly way to get started. Survey. Send out a periodic survey with a question that says 'Thinking about your last several experiences with the self-service portal, what percentage of the time were you able to quickly find helpful knowledge that solved the problem without having to contact a live agent?' This is not accounting level precision, but it is at least directionally accurate.
Three failed attempts and a user will never use the technology again. @AnuragGurtu discussing #AI #Chatbots #SMWorld2018

— MetricNet (@MetricNet) October 17, 2018

Trend to Watch: Blended Reality – I recently attended my son's 8th grade meet the teacher open house. We had a whopping 7 minutes in each class. Honestly the whole night was a blur, but his technology class really stood out. She sat us down and played a video for Microsoft's HoloLens project. I didn't hear the word HoloLens once during Service Management World, but it has far reaching implications for ITSM. HoloLens and more broadly the concept of blended reality as an IT service and support channel has the potential to put most current remote diagnostic tools out of business. Don't believe me? Watch the video and remember this – 'When computers have the ability to understand the real world, a bunch of really powerful things can happen.'
These 5 key AI insights from Service Management World just scratch the surface of what's coming down the pike for IT. If you missed this year's conference, I would encourage you to pencil in Service Management World 2019 which is happening November 11-13, 2019 at the Omni Orlando Resort at ChampionsGate.
About Author