7 Strategic Service Desk Best Practices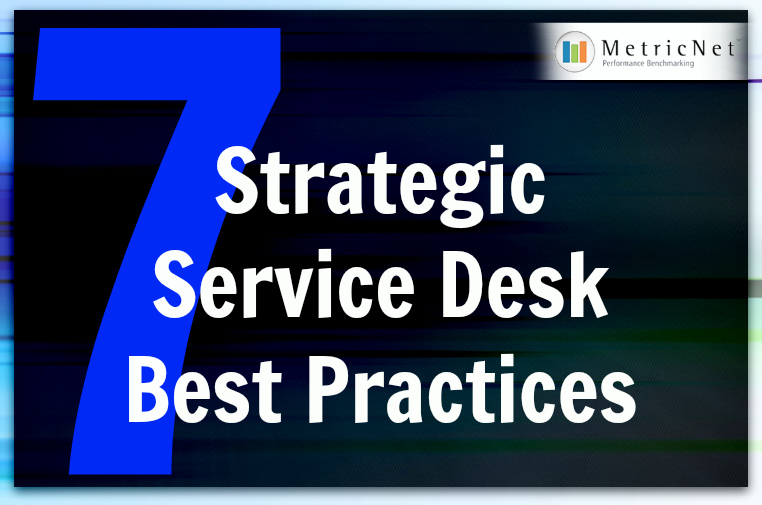 When it comes to Service Desk Best Practices, the Service Desk is now being managed as a strategic asset within the enterprise. One that can reduce the overall cost of IT, dramatically improve the productivity of end-users and drive high levels of Customer Satisfaction for all of IT. World-Class Service Desks follow a number of common best practices including:
The Service Desk is integral to IT overall. They are not just some ancillary function.
The Service Desk is embedded in the IT value chain. They understand the economics of Service Desk Total Cost of Ownership (TCO) which is why they emphasize and maximize first level resolution rate.
Active efforts to maximize First Contact (FCR), and First Level Resolution (FLR) Rates drive customer satisfaction and help reduce TCO.
Performance metrics are used diagnostically and the Service Desk is benchmarked annually.
A strong investment in agent training, coaching and career pathing is in place.
The Service Desk's internal message is actively managed – recognizing that perception and reality are not one in the same.
Value generated and delivered by the Service Desk is aggressively promoted and communicated.
The first step to becoming a World-Class Service Desk is to consistently exceed customer expectations. This results in high levels of customer satisfaction and consistently high call quality, but having high customer satisfaction by itself is not enough. You also have to manage your costs very aggressively.
World-Class Service Desks must manage their costs at or below industry average levels. This means that your cost per contact is below average, but it also means that you minimize Total Cost of Ownership (TCO) by maximizing First Level Resolution Rate (FLR).  We talk about this component quite a bit in our live Service Desk Best Practices webcasts.  See upcoming events on the webcast page!
The third step to becoming a World-Class Service Desk starts with defining and documenting industry best practices. Once you have done that, you must consistently follow them!  The good news is that MetricNet has defined and documented more than 120 industry best practices. This is just one way that a MetricNet Service Desk Benchmark can help your Service Desk achieve World-Class Performance at a revolutionary pace!
Finally, World-Class Service Desks recognize that every transaction adds value!  This creates a positive customer experience and also drives a positive view of IT overall.
About Author