Call Center Benchmarking Case Study


For the benchmarking practitioner, the case studies offer insights into the proper methodology for effective benchmarking. And for MetricNet's prospective clients, the case studies provide assurance that MetricNet benchmarks yield tangible, measurable business benefits for your organization.
Business Mandate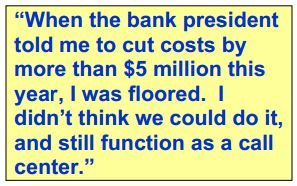 A nationwide bank was handling more than 6 million contacts a year from two call centers in North America. At a fully-loaded cost per contact of $5.85, the bank was spending about $36 million per year on its customer service call centers. Ever mindful of the need to manage costs and increase profitability, the bank president challenged the call center to reduce its operating budget by 15%, or $5.4 million within one year.

About Author