FUSION14 | A First-Class Experience for IT Service and Support
The energy and excitement could be felt throughout The Gaylord National in Washington D.C. as IT professionals from around the world came together to listen and learn. An eager crowd packed the Maryland Ballroom Monday morning in anticipation for a truly First Class experience. HDI and itSMF USA did not disappoint! Here are just a few highlights from the event.

Day one started with a bang. Quite a few of them actually! Color Guard played the tune of Yankee Doodle Dandee as the crowd stood to honor the patriotic display that paired perfectly with the area.  A tough act to follow, but HDI and itSMF USA kicked it up another notch by recognizing the achievements of several members of the IT Service and Support community just before an opening keynote that was completely on-point.
The laws of subtraction by Matthew May put a pin in complexity and left the room with a newfound appreciation for simple. He wrapped up with a simple but powerful thought. "Doing something isn't always better than doing nothing."
I still can't unsee the E. Can you?
Attendees streamed in different directions eager to learn from some of the greatest thought leaders in IT Service and Support. Thought leaders like Cinda Daly, CEO and Content Strategist at Focus Events; Eddie Vidal, itSMF USA President's award winner; Roy Atkinson, Senior Writer/Analyst for HDI; MetricNet's own Jeff Rumburg, HDI's 2014 Ron Muns Lifetime Achievement award winner, and many, many more.
Choosing sessions was not easy. I heard some of you say that you wished you could be in two places at once. Thank goodness for Twitter and the conference app!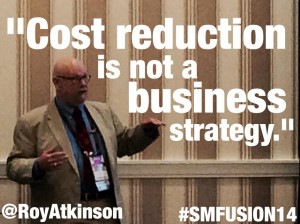 If you missed Support Center 2.0, you missed some compelling new information. The never before seen research, presented by Cinda Daly, Roy Atkinson and Jenny Rains, revealed that Service organizations are still challenged to demonstrate business value and support sustainable business growth. In fact, 86% of organizations are feeling the pressure to prove value! BMC_ITSM captured a key takeaway perfectly with their quote from Roy Atkinson. More information on the research presented can be found in this excellent infographic.
Jennifer Dingell and Stephanie Rank left those in session 208 with much to think about. Some key takeaways: "Metrics need contextual relevance" and "If it's not working for the business, they cut it."
Jeff Rumburg further strengthened the business value trend in session 302, Optimizing the Tradeoff: Cost vs. Quality in Service and Support. We often hear the term World-Class, but many can't answer one simple question. What does being World-Class really mean?  According to Jeff, "World-Class is not an absolute performance target. It's about using the resources you have to achieve the best possible result." He also revealed the ideal operating range for cost and quality in Service and Support. The presentation can be downloaded here. His final thoughts? Don't "buy" too much Quality and don't sacrifice quality for the sake of reducing costs!
Day one wrapped up with Diana Nyad and, suffice it to say, she quite literally lit a fire under each and every one of us. Her inspiring story obviously resonated with the audience, but it wasn't until you walked through the expo hall that evening that you realized just how much. At just about every table, clusters of attendees were in deep discussion about this amazing woman. Their expressions both hopeful and focused. Presumably because they themselves are now planning the next steps to accomplish their dreams.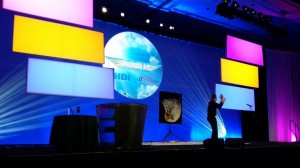 Several key trends emerged by the end of day one. Trust, business value & strategic alignment were lurking around every corner and they came out in full force on day two. It began with another great patriotic display where a speed painter created a beautiful bald eagle upside down in under 5 minutes!
But that wasn't all FUSION's general session had in store that day. After all, this was First-Class. Robert Tercek probably scared the pants off of every IT professional in the building.  I'm sure that wasn't his intent, but when he mentioned the vulnerabilities in the Internet of Things, you could feel the fear in the room. While you may be thinking that's a bad thing, it's actually quite good. He educated the room on the importance of staying ahead of the curve. Bringing new threats to the forefront means your organization is less likely to become one of these statistics. Some of the most compelling takeaways: "If trust is going down, brand value is going down. This burden is going to fall on IT." "We can't even place an accurate value on our data assets. IT has to move to a leading role to strategy, planning and operations." And "Don't use any USB's you find in the parking lot…"
Sessions 404 and 504 presented by Katherine Lord, Manley Feinberg, & Mike Kublin, was one of the most powerful and compelling rooms I've ever had the pleasure of being in. They set us so far outside of our comfort zone we couldn't see it anymore. For those of us who find it difficult to do that, which, let's face it, is most of us, the 'show me' element of this session was one of the most valuable takeaways of FUSION14. Final thoughts from the panel: "Stop chasing behaviors and start challenging beliefs." "The transition to a transformation starts with a compelling story as to why the change needs to be done." And "Trust creeps in but rides out on horseback" – Dutch saying from Katherine Lord
Eddie Vidal wrapped up the afternoon with session 607, Five Roads to Employee Engagement & Success. He consistently engaged the room and shared this extremely convincing statistic "52% of American workers are not engaged. This costs the US $450-$550 Billion each year in lost productivity!"  I have no doubt that everyone in attendance will be much more conscious of employee engagement.
Just when I thought it couldn't get any better, HDI and itSMF USA had to throw Connie Podesta in the mix. Connie was perhaps the best keynote speaker I've ever had the pleasure of seeing. She reduced the room to shapes and in doing so, empowered them to be more aware of how our subtle behaviors affect the outcomes of everything in life. Whether you are a square, circle, triangle or squiggle, I'm sure you came out of that session enlightened.
Squares…did you notice what I did there?
Adorned with the shape from Connie's session, attendees made their way to an exhibition hall decked out like a giant airplane hangar. Several moonlighters who looked like they were plucked from Top Gun guided the way to Spazmatics who, dressed in their best nerd gear, returned to deliver another great 80s rock performance that left the audience begging for an encore. Thankfully, Kirk Weisler was able to elude the party police and delivered a power packed session on day three that literally left the audience hanging on the edge of their seats.
We wrapped up the conference with Julianne Vargo and Gary Case who spoke to the tune of metrics and balanced scorecards. Julianne provided a practical case study and step by step instructions on building a metrics dashboard with nothing more than Microsoft Office and the Snipping Tool! The proof of success was evident when IT leadership response to metrics increased dramatically. Gary took a practical approach to performance measurement and management and ended with a powerful piece of advice. "If you reward for old behavior, you will get old behavior."
Thank you HDI and itSMF USA for a truly First-Class experience. We'll see you in Vegas! 
Stay tuned for our video highlight reel…..
About Author