ROI OF SUPPORT PART II
Each month, I highlight one Key Performance Indicator (KPI) for service and support. I define the KPI, provide recent benchmarking data for the metric, and discuss key correlations and cause-and-effect relationships for the metric. The purpose of the column is to familiarize you with the KPIs that really matter to your organization and to provide you with actionable insight on how to leverage these KPIs to improve your performance!
Last month I began this two-part series on Return on Investment (ROI) for service and support. In part 1, I defined how value is created in IT service and support. This month, in part 2, I will go through a case study that calculates the ROI for a particular support organization.
ROI Case Study
A mid-sized service desk at an insurance company had an operating expense of $4.8 million per year. The desk supported 8,190 users and handled 21,300 tickets per month. Through aggressive problem management, over the course of a year this service desk was able to reduce ticket volumes from 2.6 tickets per user per month to just 2.2 tickets per user per month. The table below summarizes the results of their problem management initiative.

At a savings of $94 per user per year, the total savings attributable to problem management is estimated to be $813,100 ($94 annual savings per user x 8,650 users supported).
Technology can also reduce incoming contacts and hence the cost of support. Password management tools are a perfect example of this. In North America last year, password resets comprised more than 25% of all contacts to the service desk. By adopting a password management tool, a typical service desk can eliminate half or more of the resets that would otherwise be completed by a live agent. This amounts to real savings for any support organization!
Last month we discussed how service and support can make end-users more productive, as illustrated in the figure below. Moreover, the economic benefits of improved worker productivity can be quantified.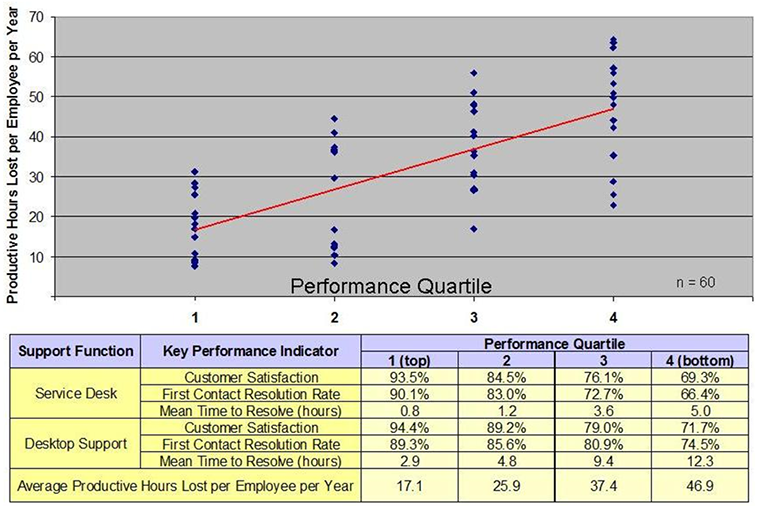 Let's apply these productivity gains to the insurance company in our case study.
About Author