The Exceptional, The Authentic, The Passionate – HDI 2017
Brilliant! The one word that comes close to describing HDI 2017. 8 insightful learning tracks, 100 prolific speakers, 4 visionary keynotes, more than 50 leading-edge vendors and over two thousand gifted IT professionals all gathered together to share their challenges and triumphs with one goal in mind – to enhance the IT Service and Support community! If you've attended an HDI conference in the past you noticed a few differences this year, and if you've never attended an HDI conference in the past you bore witness to a bigger, better and more interactive conference than ever before.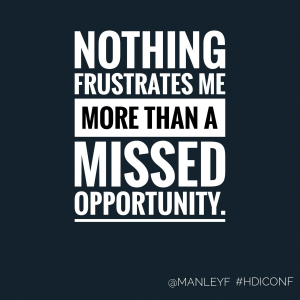 Manley Feinberg is one of the industry's most passionate and vibrant speakers. To say I was thrilled that he kicked off HDI 2017 would be an understatement. He has an uncanny ability to connect us to one another. Manley relates our day to day highs and lows to experiences he has had as a climber. There, it is mission critical to get on belay, but we can take that critical climbing concept and apply it to our careers and our lives at home. Are you giving too much slack? Not enough? Are you focusing on your current climb? Celebrating your summits? If you haven't already, call, text or email the belay buddy you met that day. They will help you maintain clarity and focus and build upon the momentum of HDI 2017. The conference maximizer isn't just for first timers anymore. It's an incredible opportunity for all. Now HDI has me wondering if Manley will be an anchor in that slot or who might be in store for us in 2018…
Belay buddy not far behind, we headed to the expo hall to mingle with other attendees and knowledgeable providers of the next generation of IT tools and technology. Bonus – there were even light sabers, an arcade and photo booth, a magician, Joe the IT Guy 🙂 and some ducks in a row.
Malcolm Fry had some incredible advice to share before the opening keynote. – "Don't hesitate. The 'yes we can' attitude is absolutely critical."  Cue Ekaterina Walter. A profound keynote speaker who reminded us that we are all entrepreneurs. How authentic and passionate we are in life dictates how much we innovate. Ekaterina was the first one (but not the last!) to point out that the path of most resistance in service and support is quickly becoming the voice channel.
On my way home from HDI 2017, I couldn't help but think about Ekaterina's keynote. I've flown on nearly every airline and experienced the good, the bad and the ugly when it comes to air travel, but I can't say I've experienced the exceptional – the authentic – or the passionate. Until Friday, May 12, 2017.
I boarded the Southwest flight heading back to Tampa just as I had done many times before. I watched as everyone shoved their baggage in the overhead bins and grumbled at the people standing in the aisle. And then something amazing happened. Once everyone was seated, the pilot came into the aisle and addressed the plane face to face. He was genuine, humorous and authentic. He asked that we treat the crew with respect as well as our fellow passengers. He told us a heartfelt story about his wife and then handed us off to the crew. But that wasn't the best part. The crew put their own spin on the regulations.
You know the ones that you always ignore because they say the same thing, the same way every single time? Honestly I could probably recite it by heart at this point. This crew said what they needed to say, but they had the entire plane in hysterics, and even those passengers who tend to ignore the regulations with earbuds in and heads down took earbuds out, lifted their heads and laughed with the rest of us. The whole flight was like that. Lighthearted and refreshing. I can honestly say, I've now experienced the exceptional, the authentic and the passionate when it comes to air travel! That's also what I would consider Radical Customer Service which is exactly what Neil Gloudemans and Taylor Jadin spoke on in session 108. They get love letters from end users. Do you?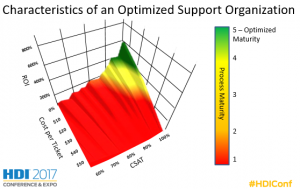 MetricNet's own Jeff Rumburg presented back to back sessions on Wednesday. In session 202, 'Turbocharge your Metrics with Benchmarking' Jeff shared detailed performance data from MetricNet's 2017 Global Benchmarking Initiative. This data proved how benchmarking, and more specifically, a mature metrics discipline, enables support organizations to optimize their performance and ultimately become World-Class. A companion whitepaper can be found in Support World here. If you are one of the 90% (yes 90%!) of support organizations that are NOT using KPIs to drive continual service improvement, we suggest you start as soon as possible!
In session 308, Jeff brought telephobia to light and provided real-world examples of how Any Time Any Place support is driving higher levels of customer engagement in the enterprise. He reiterated the point made by Ekaterina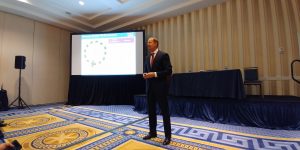 earlier that day when he said 'voice is quickly becoming the path of most resistance' – especially among millennials. The simple fact is this – Our expectations for service and support are being influenced dramatically by our experiences as consumers. Artificial intelligence, social media and an on-demand view of everything is putting added strain on already questionable service levels and channel choice in IT service and support. Historically, the enterprise has been 3-5 years behind the consumer space, but as the consumer space continues to evolve more rapidly, the gap is widening considerably. So, if you're not taking measures to close the gap – including improving channel choice, device choice and accessibility – you risk becoming obsolete.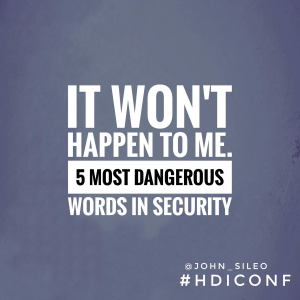 We wrapped up day one with an incredible keynote from John Sileo.  This man had the unthinkable happen to him – a privacy violation so pervasive most would never fully recover.  Instead of letting it beat him, John has made it his mission to educate others on the importance of cyber security. In fact, he correlates your willingness and ability to protect your personal security with job security! If you don't have the skills to protect your identity, how can you protect your organization? But that wasn't John's only message. "Resilience is revenge" folks. "Everyone will have some kind of breach. That's when you have to learn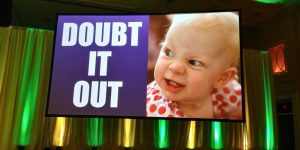 from them. That's your 'Sophie' moment." If you missed John's session, Sophie is John's daughter. He was so wrapped up in fighting charges for fraud that he didn't commit, everything else – including his family – was moved to the back burner. One day, Sophie was begging him to read her a bedtime story and he said "not now Sophie this is very important".  She responded with questions about her own importance and that childlike wonder was enough to snap John back to reality.    
One of my highs (NO LOWS!) from the entire conference unfolded on Thursday morning. For whatever reason, I've always been fascinated by Twitter. Specifically the fact that something as simple as 140 characters could turn into the social media powerhouse it is today. If you've made it this far into the article you're probably wondering how I could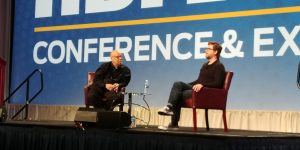 ever make it on Twitter… Sometimes I wonder that myself!  The interview between Roy Atkinson and Biz Stone was intense.  He breathed new life into the old cliché 'fake it till you make it' by painting a picture of how he quite literally was the architect of his own circumstances.  I loathe that old cliche by the way.  So thank you Biz for putting it into perspective when you said "Say something and don't be a liar – so do it". It really is as simple as that!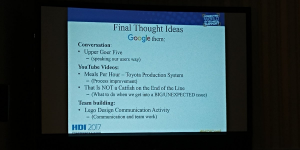 Next on my journey was 10 Steps to Go from a Helpless to Helpful Desk with Michael Little. A standing room only crowd listened intently as Michael explained that if you're saying you're too busy to have team meetings – "you're too busy NOT to have team meetings." Michael also shared 10 actionable steps that attendees could easily use to transform a helpless help desk to a helpful help desk! Finally he left us with some great final thought ideas. Have you Googled any yet?
Have you ever heard of a #halfselfie? I hadn't until stepping into Leslie O'Flahavan's session Not Dead Yet: How to Write Great Email to Customers in the Age of Social Service. Leslie strengthened the trend of social experience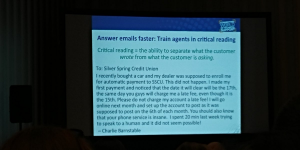 driving customer expectation in the enterprise. Do you understand what your customers are asking or are you focusing too much on what they are saying? Being professional doesn't mean your emails need to sound stodgy or stuffy. Mastering the critical reading skill, stressing empathy over apology, and a conversational tone are all prerequisites to effective email service and support. As Leslie undeadified email for the audience, she shared real life examples of good email techniques as well as those techniques that make you cringe.
After an exciting day of learning, attendees wound down at the conference party. The Orchard Terrace was rained out, but that didn't stop the boardwalk theme from coming to life in the general session ballroom. Wack-a-mole, a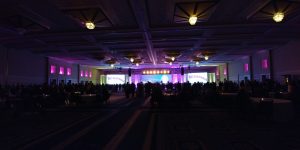 larger than life beer pong game, corn hole and putt putt golf were just a few of the games on the HDI boardwalk tour. I also have to commend the DJ for his eclectic taste in music – from today's hits to salsa to country to 80s rock, there was something for everyone!  Finally, I have to thank the very kind person who gave me some spare flair 🙂 Kirk was clearly the winner of that battle, but I'll cherish that one button. In fact, it now has a special place on my desk as a reminder of the amazing people I met this year.
Some of the best sessions were waiting for attendees on the final morning. Kirk told stories at breakfast and Eric Goupil shared incredible advice to turn service from green to gold. Are you familiar with the watermelon effect? While your performance might be green on the outside, it could be red on the inside. He was speaking our language when he said "to be a trusted advisor you must understand correlations". If you want to use KPIs that drive action and results in new ways, we definitely recommend purchasing and watching session 702.
We wrapped up the session blocks with Stephen Mann's session on Enterprise Service Management. While the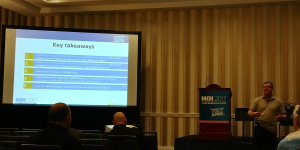 concept is not new, this trend is rapidly gaining momentum as organizations recognize the value that mature IT processes can bring to other departments. Stephen was another that brought consumerization to the table.  He took it one step further by making distinction between the consumerization of IT to the consumerization of services. Will you step up to the challenge and replicate the IT service desk brilliance within your organization? As Stephen so aptly pointed out – "Enterprise Service Management will not sell itself…"
The closing keynote had the entire room in a frenzy of laughter. He gave us terrible advice. At first anyway. Personally, I find an incredible amount of value in humor. Jeff Havens really did teach us how not to talk to others, but on the flip side, we learned how our words affect our culture. My favorite takeaway was when Jeff said "Repetition steals the meaning from the words that we say". Since then, I have made it my mission to be more aware of my words. It's amazing how much we repeat on a daily basis. Do you sound like a broken record? I'm pretty sure I did!
We'd also like to give all of the HDI 2017 award winners a virtual round of applause.
Hall of Fame inductees: Rae Ann Bruno, Darien Chimoff, Malcolm Fry, Pete McGarahan, Sandy Seroskie

Joshua Tooley – HDI's 2017 Local Chapter Officer of the Year

James Van Poolen – winner of HDI's Analyst of the year award

Jeff Anderson  winner of HDI's Desktop Support Technician of The Year Award

The GTS Support Center from Ameritas IT – HDI's Top Ranked Support Center on the CSAT Elite 50

Natalie Mallard – winner of HDI's Manager of The Year Award

The Mitre Corporation, winner of HDI's Team Excellence Award Winner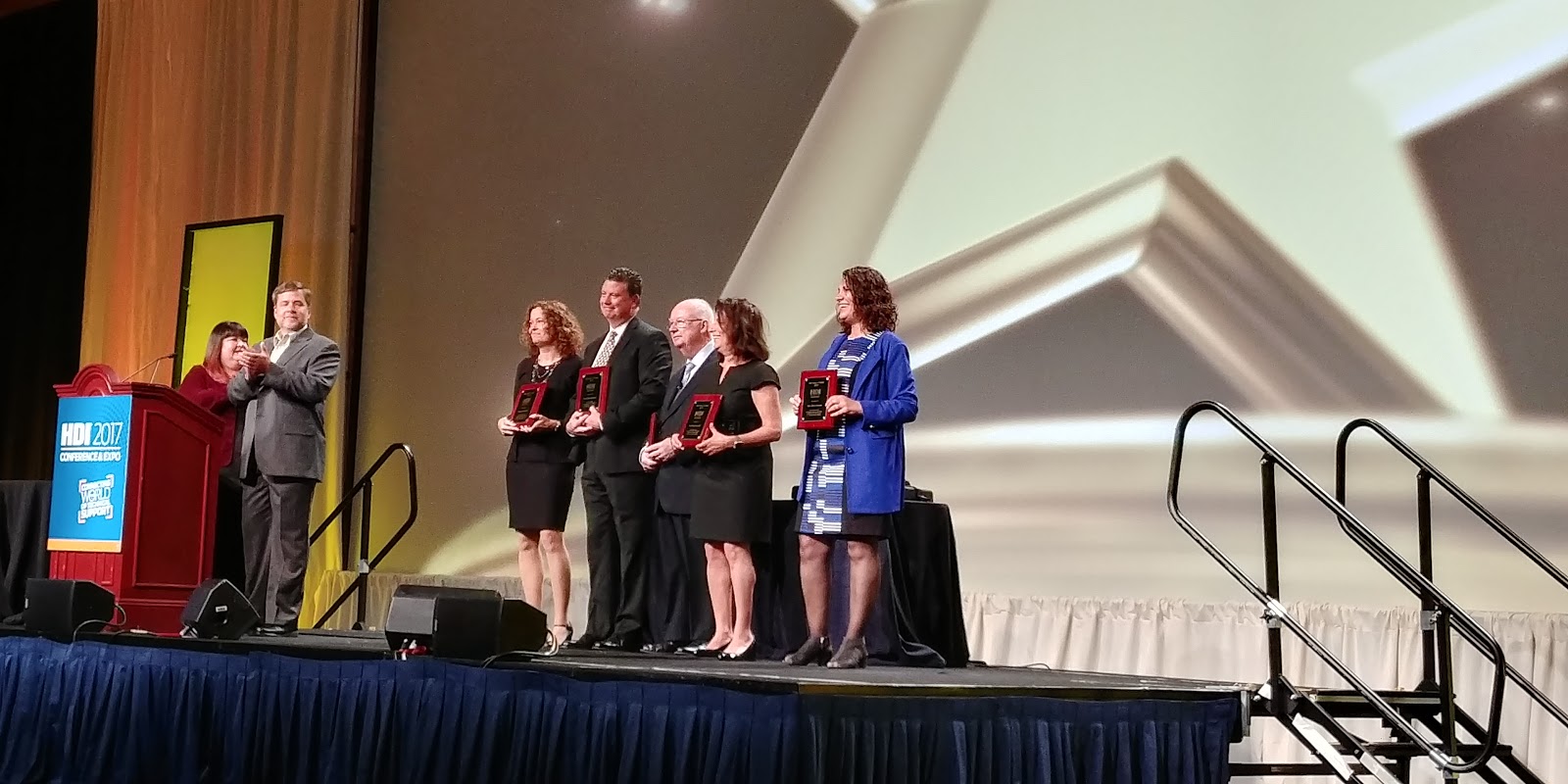 Thank you HDI for a brilliant week of learning and networking. We'll see you next year in Vegas!
About Author