Fascination – Enlightenment – Unity | HDI 2016 Recap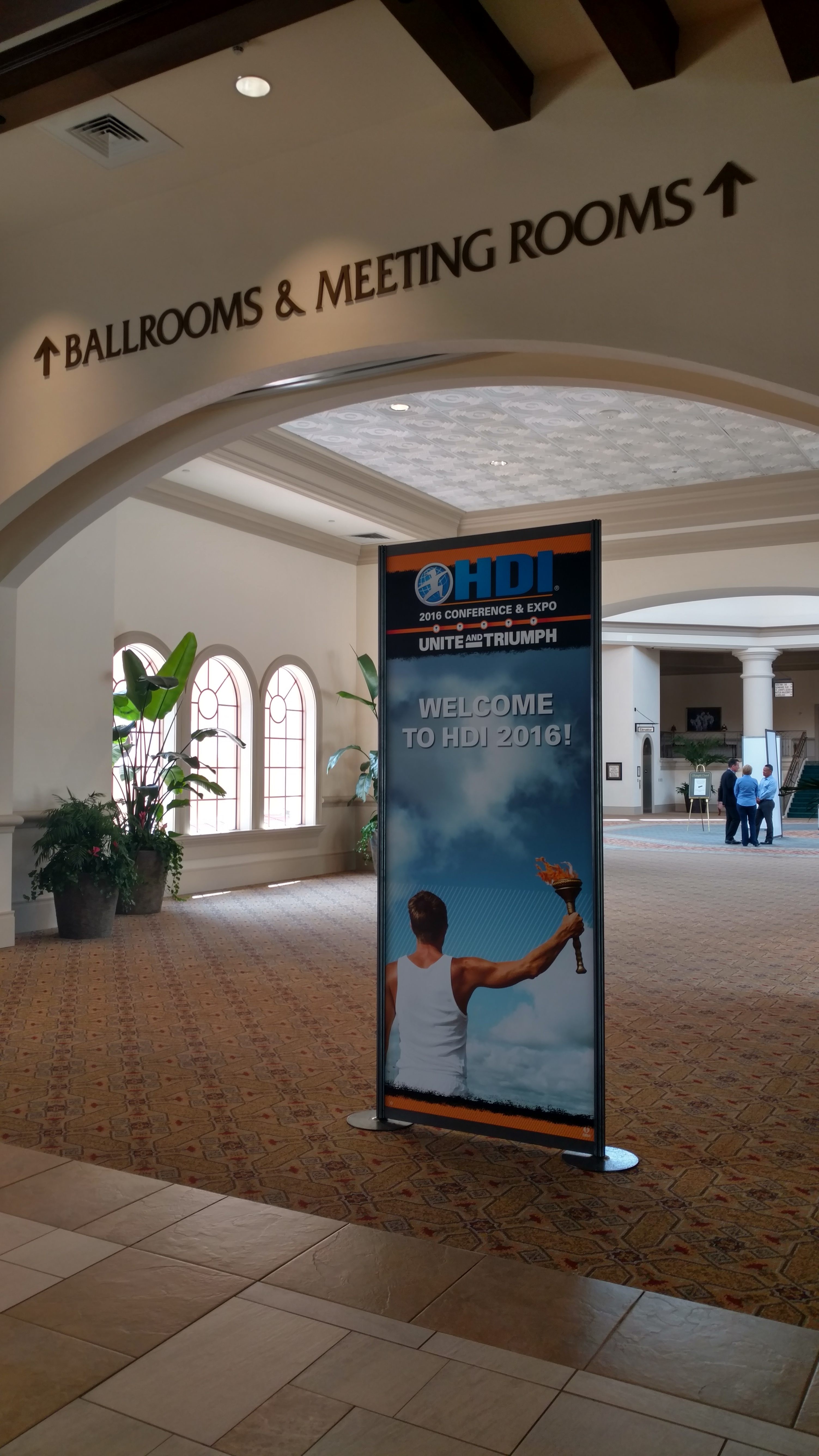 Fascination – Enlightenment – Unity… Three simple words that say it all.
We had the honor and privilege to attend an incredibly powerful HDI conference in Orlando, Florida last week. IT professionals from all over the world came together to learn from the industry's greatest minds, network with one another and ignite their passion for service and support.  Captivating keynote speakers empowered attendees to become the best version of themselves, build upon their strengths and zap generational gaps through collaboration and understanding.  IT leaders from each and every corner of service and support challenged attendees with thought provoking sessions and unparalleled insight.
The games began on Tuesday evening when Kirk Weisler greeted an eager crowd outside the expo hall just before the doors opened for the welcome reception. A resounding cry of "Unite and Triumph" could be heard throughout Rosen Shingle Creek. And, when the doors finally opened, every booth and table was surrounded in a matter of minutes. Strangers became friends. Ideas were hatched and knowledge was shared.  The energy in Gatlin spread like wild fire.
From the breakfast briefings, thousands of attendees flooded the ballroom for the official kickoff of HDI 2016. Awards were presented and the first of many were inducted into the new HDI Hall of Fame. Congratulations to Ken Wendle – winner of the 2016 HDI Ron Muns Lifetime Achievement Award as well as Chris Farver, Cay Robertson, Eddie Vidal, Kirk Weisler and Tatsumi Yamashita – winners of the inaugural HDI Hall of Fame Award.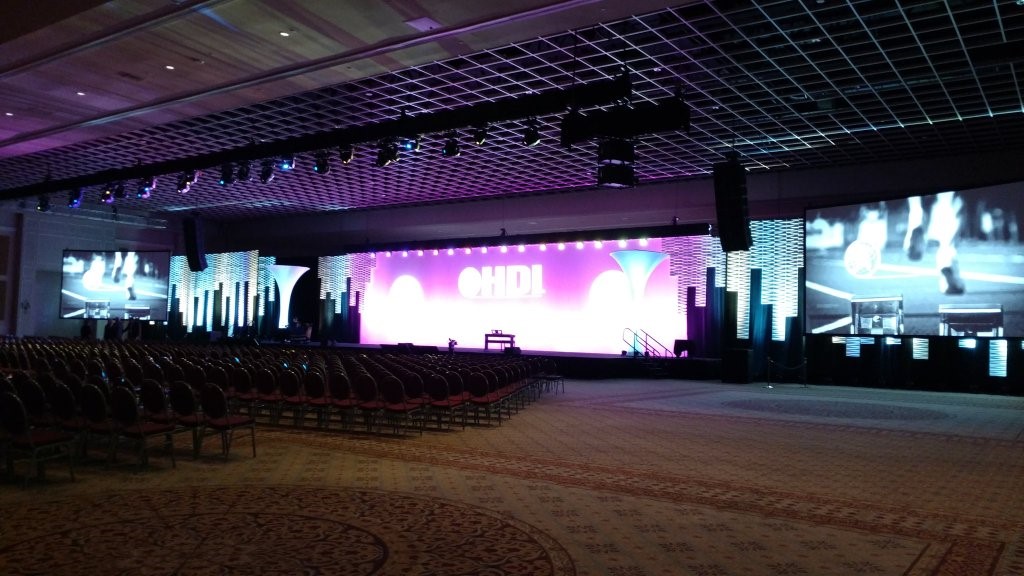 Keeping with the theme, conference attendees were read into the Twitterlympics by Rae Ann Bruno and a team of four amazing coaches. This team building activity was met with instant fervor. New Twitter users joined prolific tweeters in a hashtag challenge that not only enhanced and reinforced lessons learned, but also cataloged the entire conference into a searchable thread of the most memorable moments.  If you weren't following then, I would encourage you to look back. It's an excellent resource.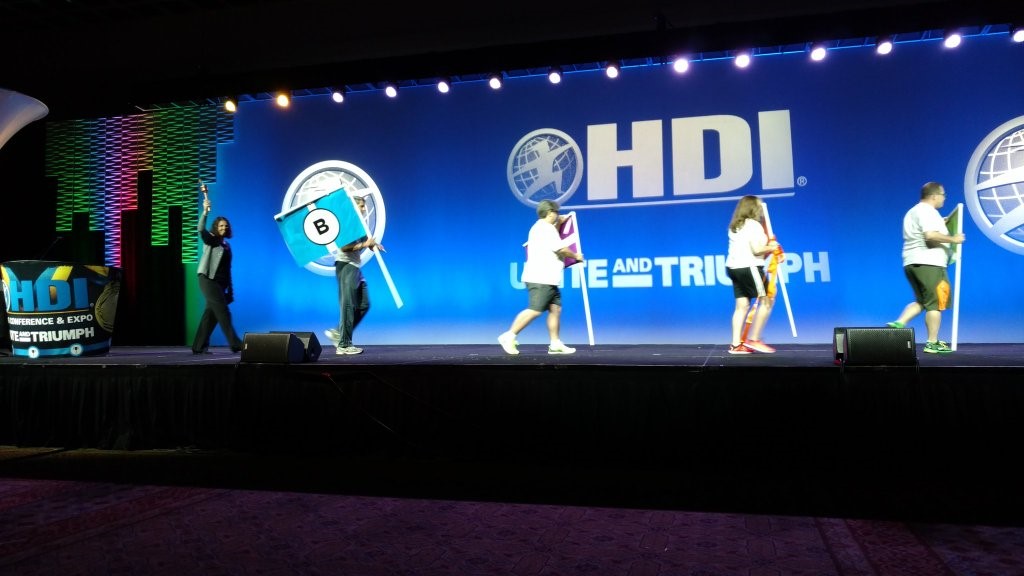 David Pogue was the first of many incredible keynote speakers. He gave attendees a new outlook on the disruptiveness of technology, introduced us to USB C – who else can't wait for that to be mainstream? – showed us how to turn an everyday device into a unique musical instrument, and even sang some hilarious songs about tech to wrap up.
"Right now, we're in the Commodore 64 era of smart watches." – David Pogue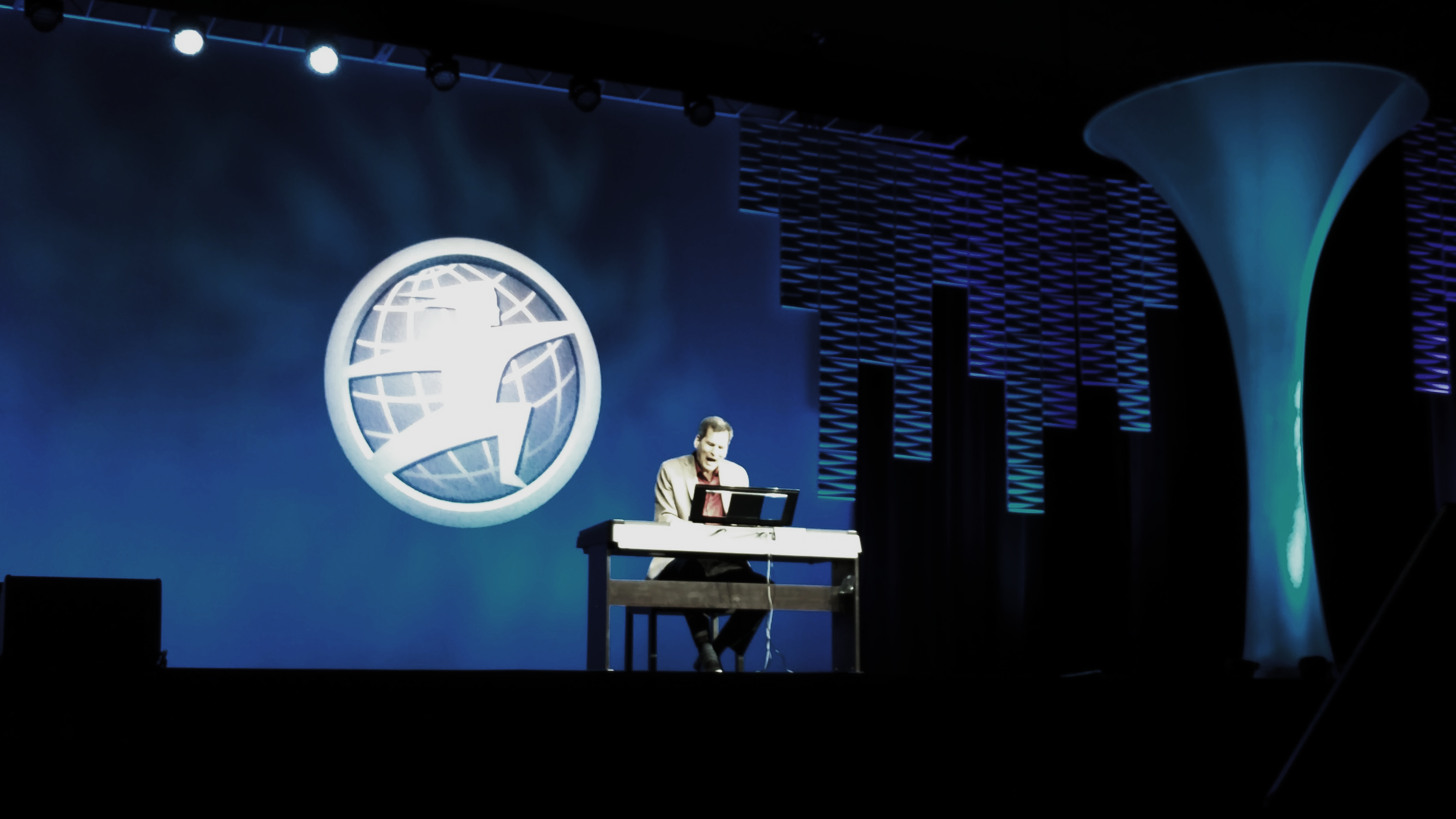 MetricNet's own Jeff Rumburg kicked off the sessions with a compelling discussion on the future of Desktop Support. Those in his session found out that in 2008, more than a quarter of all tickets in Desktop Support could and should have been resolved at level 1 and in 2015, that number is still about 17%! They left pondering the question "Do users want to do business with you?". The slides are available here.
"Most support organizations are resource constrained, but that forces you to make intelligent decisions." – Jeff Rumburg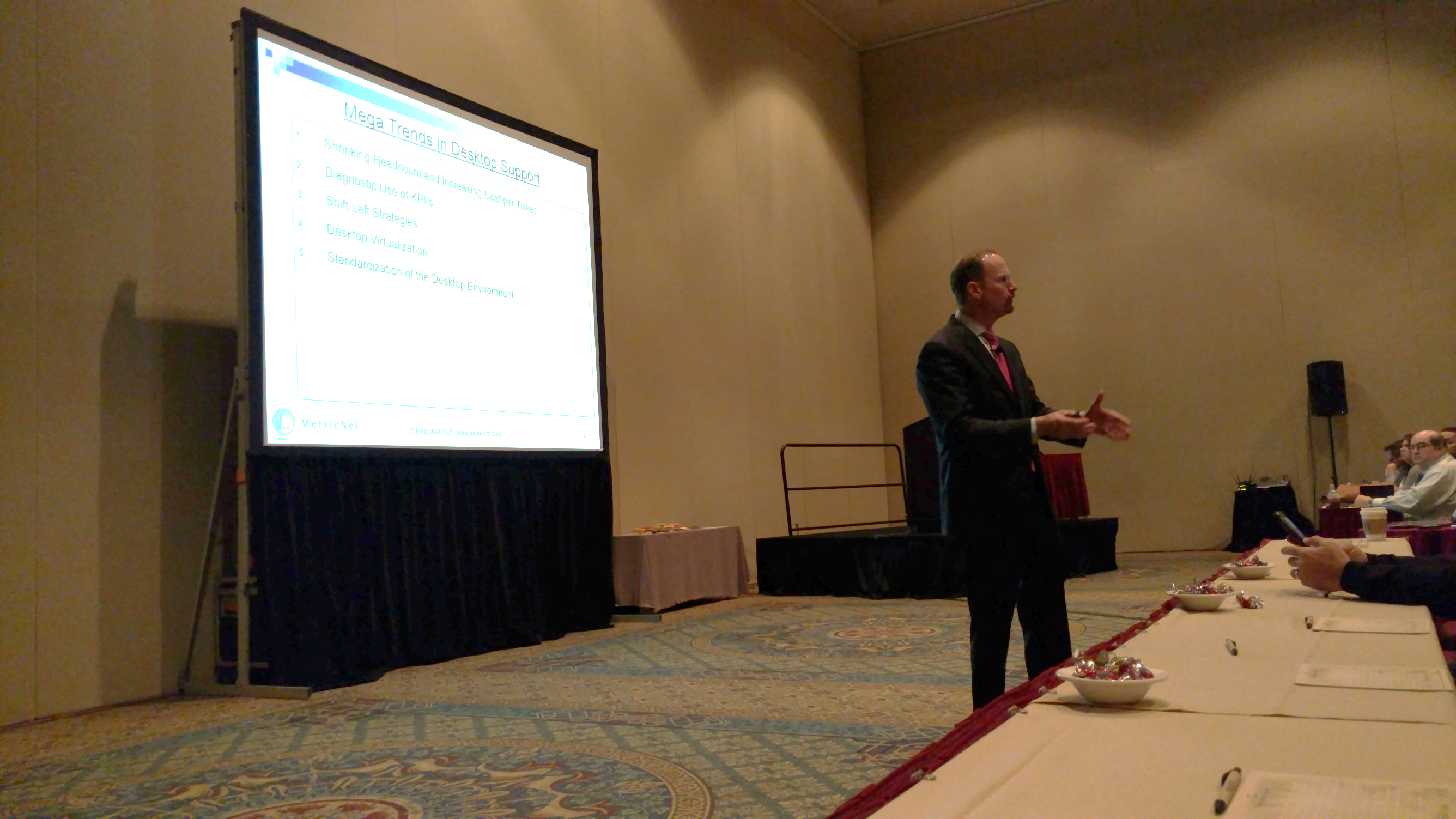 'A good SL1 tech doesn't always a good SL2 tech and vice versa' Ain't that the truth. Different Support mentalities #HDITeamS #HDIConf

— Jeff Beaudoin (@Fed_N3rd) April 13, 2016
Next up on our agenda was Kirk Weisler's session "Bobsleds, bathtubs, and butterflies". We simply couldn't pass up the opportunity to see this one. Attendees learned that successful communication is 55% posture and facial expressions, 38% tone of voice and just 7% words we use.  And, with some careful coaching, Kirk's bobsled team is now ready to win the Gold medal.
"Beware the illusion that communication has occurred." – Kirk Weisler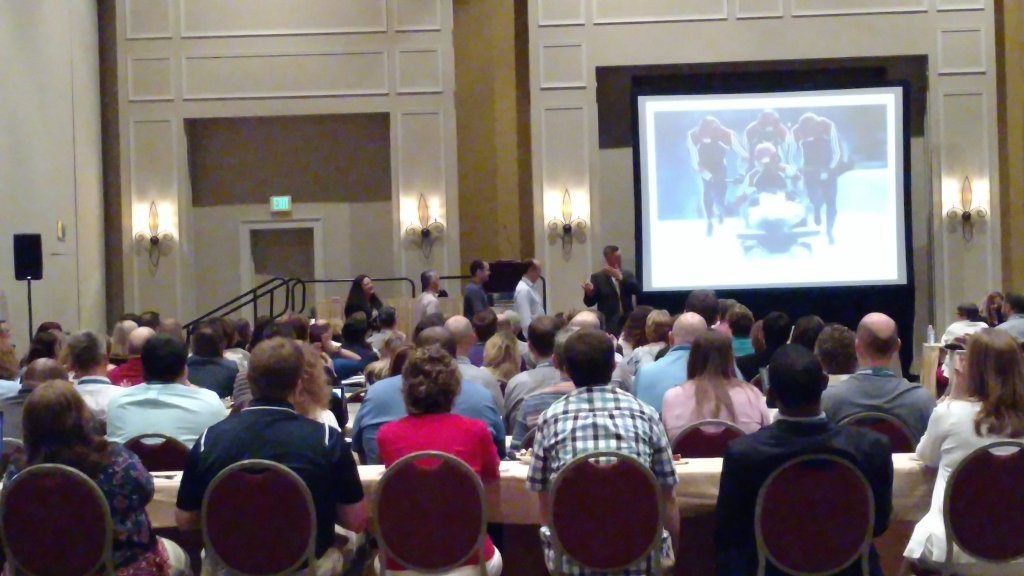 Julie Mohr was our last stop on day 1. She changed the way service and support professionals view Strategic Measurements. Attendees now have a renewed focus on clean data because, as Julie so aptly pointed out, clean data is incredibly important to effective decision making. She was also one of the many speakers that detailed the importance of balance as it relates to measurement. Finally, one of the most important takeaways from her sessions was to set realistic targets within each process because doing something on one end is going to have an impact on the other!
"Get the organization out of its comfort zone." – Julie Mohr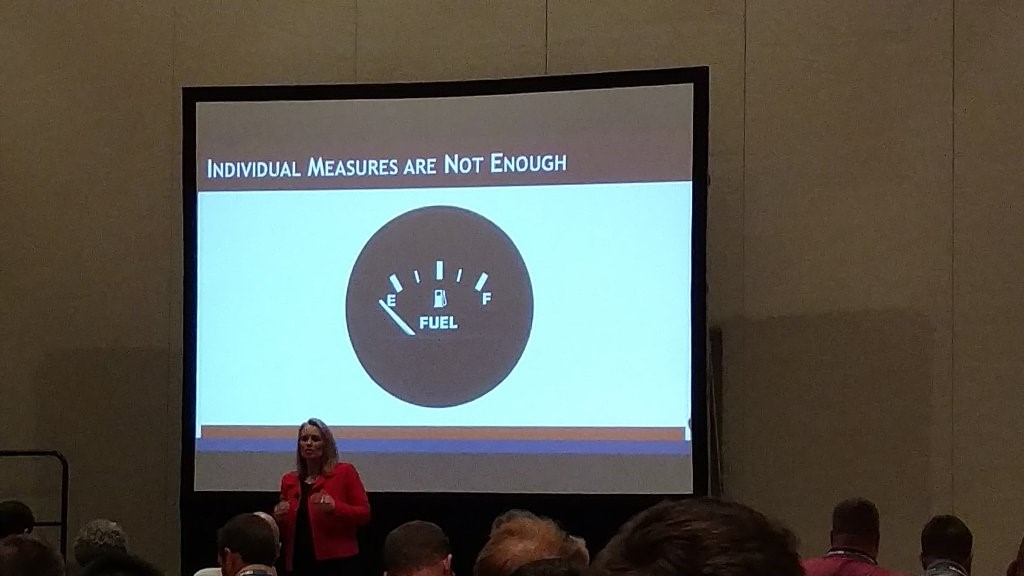 After an incredible start to HDI 2016, attendees made their way to the ballroom for the closing general session. Before the keynote, we honored Siobhan Tate, winner of the 2016 HDI Analyst of the Year Award and Nicole Sladick, winner of the 2016 HDI Desktop Support Technician of the Year Award. Congratulations ladies! We knew Sally Hogshead was going to be fascinating, but what we didn't realize was just how fascinating she was going to be.  She painted a picture for us to drive home the point that "different is better than better". We learned to appreciate our strengths, focus less on our weaknesses and stop underestimating how good we already are. What is the orange ticket within you?  Take the assessment to find out…
"Be heard, memorized and acted upon." – Sally Hogshead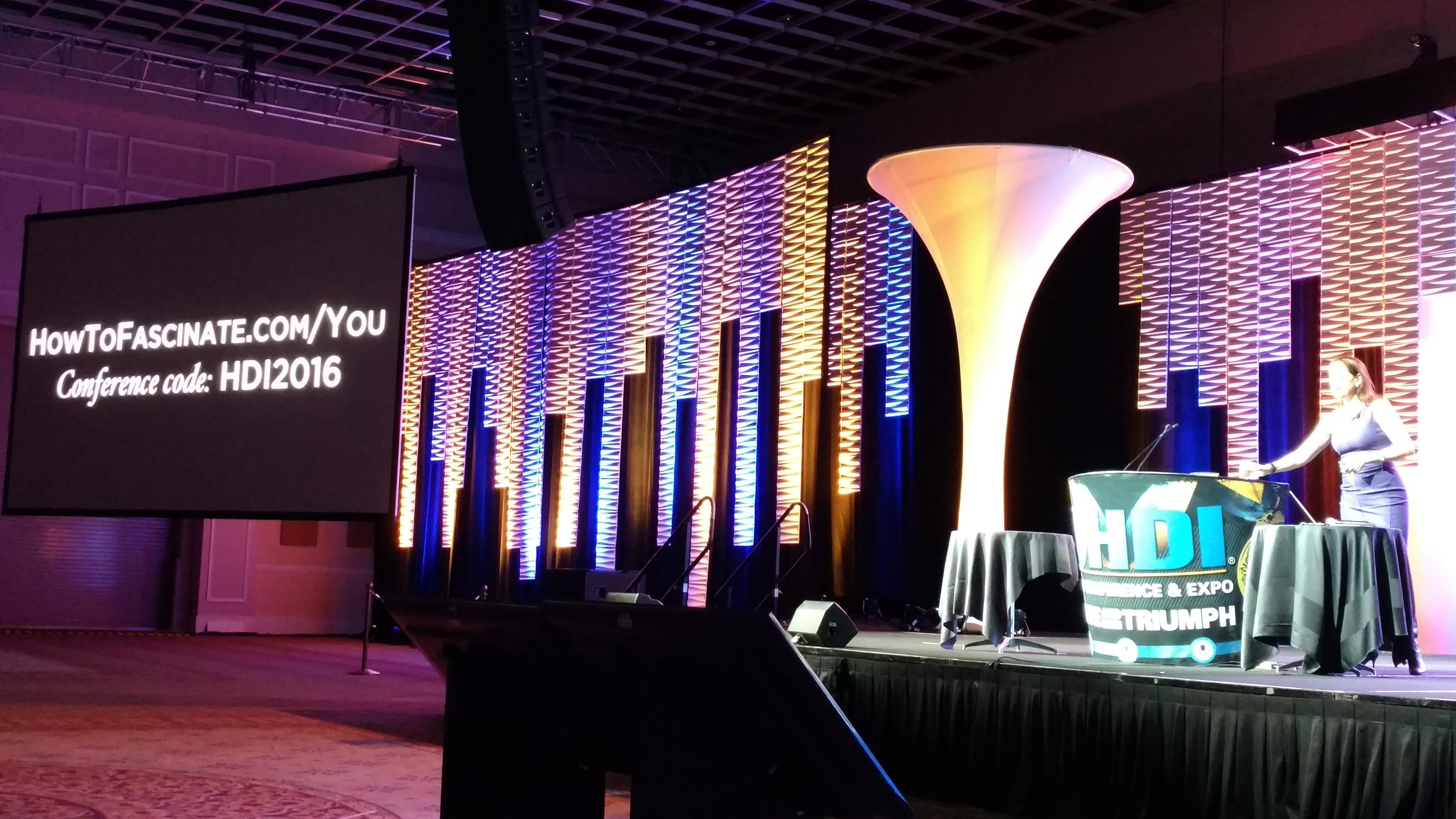 The energy level seemed to increase overnight and HDI kicked it up yet another notch with an early morning dance performance. Shortly thereafter, we honored Marie DiRuzza, winner of the 2016 HDI Manager of the Year Award and Jane Leahy, winner of the 2016 HDI Local Chapter Officer of the Year Award. Congratulations ladies!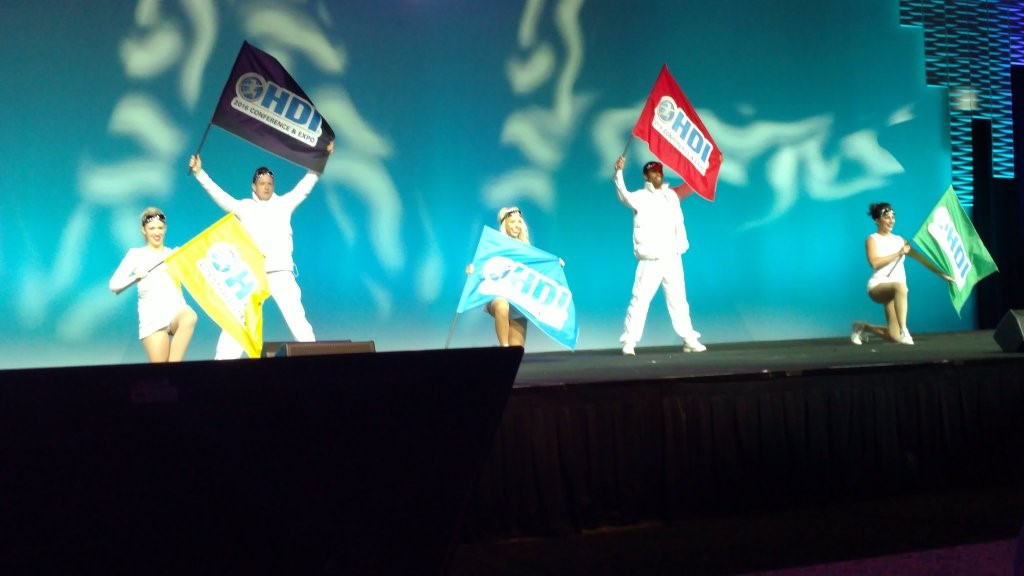 We were then fortunate enough to learn from Marcus Buckingham. He made us think, made us laugh and reinforced one of the key trends in this year's conference when he said "Know me for what I do best – focus me around what I do best." The leaders in the room have a new outlook on feedback – one that focuses on coaching attention. After all, in the words of Marcus Buckingham, "Your brain on feedback looks like you're being attacked by a sabretooth tiger".
"We are more fearful of our weaknesses than we are honoring of our strengths." – Marcus Buckingham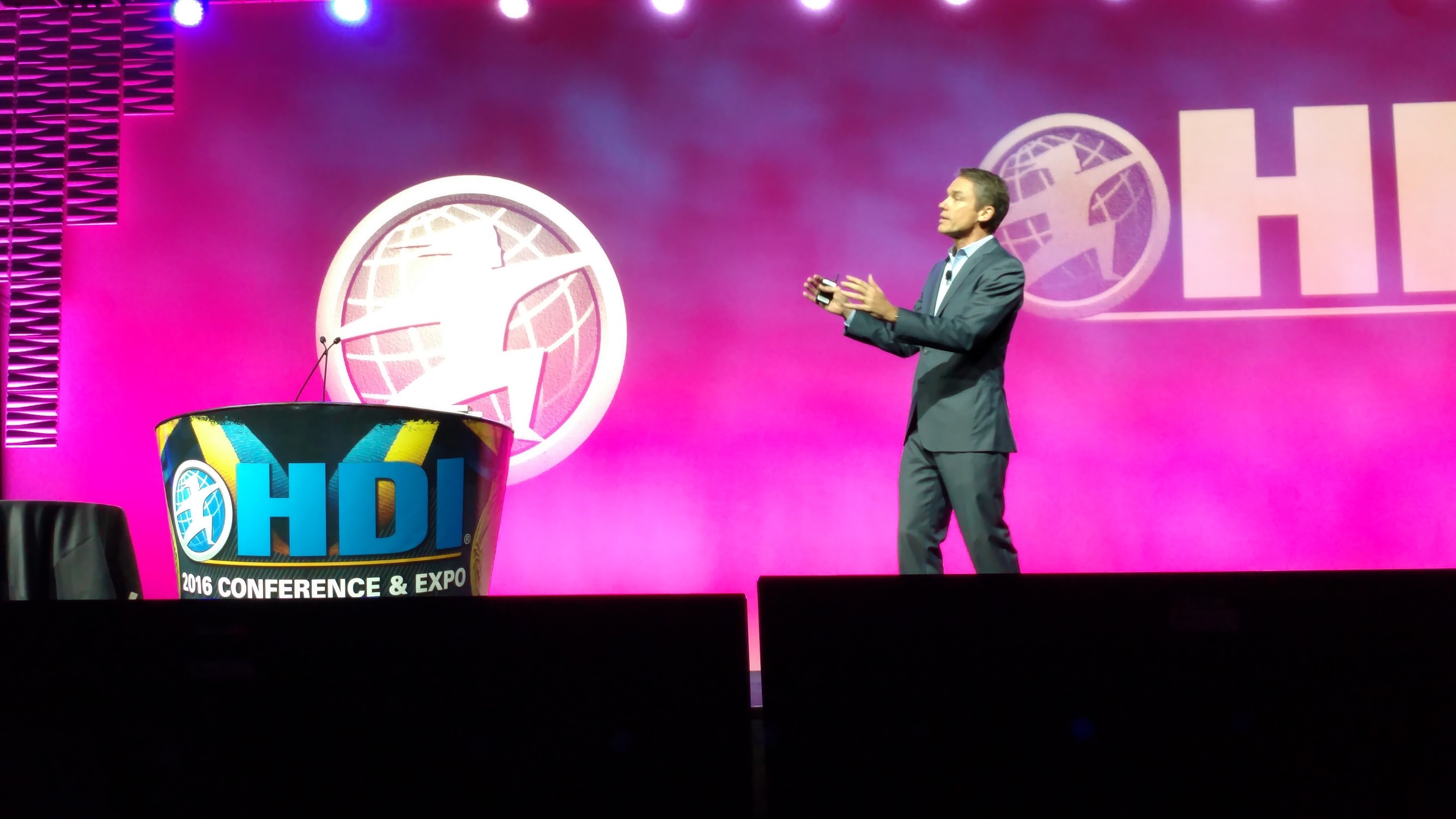 Jeff Rumburg was up next with his second compelling session of the conference, The Diagnostic Power of Metrics. Attendees were shocked to learn that the majority of Support organizations operate in reactive mode. In fact, only about 5% operate strategically – where every transaction adds value. Jeff left attendees with a powerful final thought – "everything you do reverberates throughout the organization". The slides are available here.
"Satisfied customers aren't enough; what you really want are enthusiastic and delighted customers." Jeff Rumburg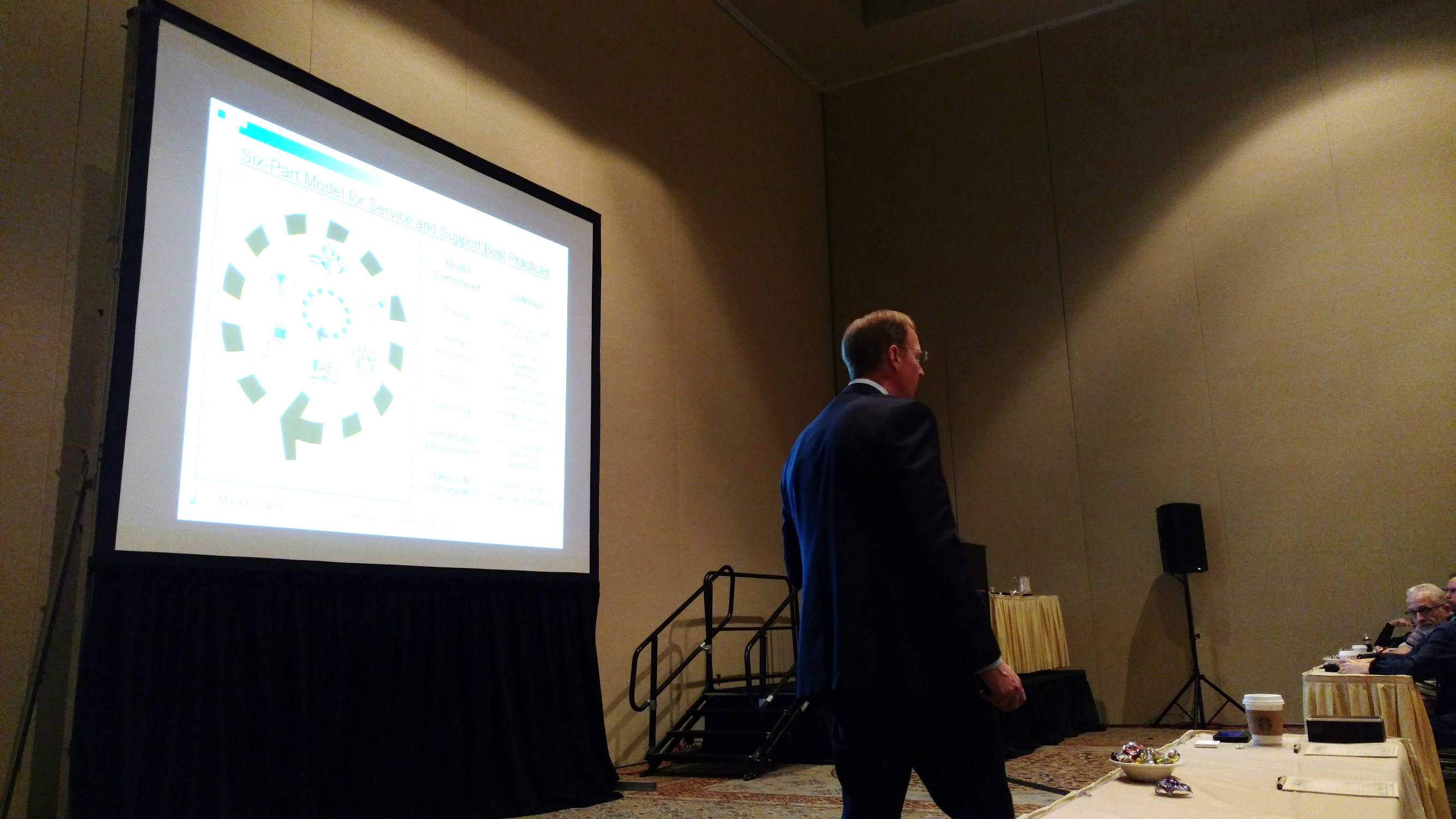 Always love listening to Jeff Rumburg from @MetricNet!! So much good metric information!! #HDIConf #HDITeamE

— Nathan Wallace (@flipside8200) April 14, 2016
Luke Keultjes wrapped up the morning sessions. He spoke with conviction and shared several practical ways to exceed expectations each and every day. A key takeaway? "By knowing what customers expect, we create a valued experience for them."
"The human element is still crucial." – Luke Keultjes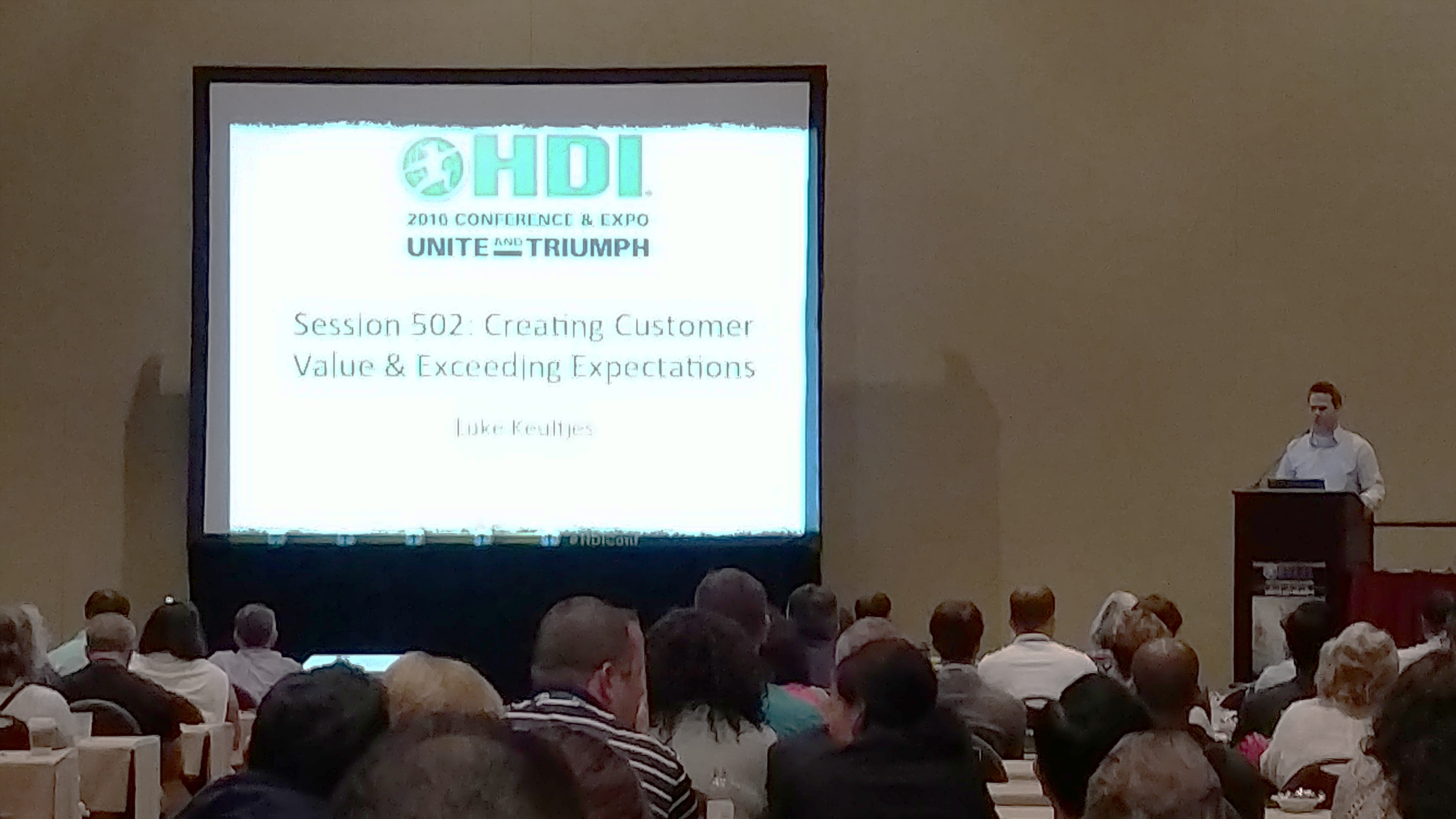 We closed out day 2 with HDI Hall of Famer, Eddie Vidal. His session gave attendees real, first-hand insight into the challenges and benefits of implementing a SPOC support model. Eddie's unique perspective, BS model, and sports analogy had the audience hooked.
Celebrate your first downs not just winning the game. Use a sports analogy and I'm hooked! #HDIConf #HDITeamE

— Candi Thomas (@candilea1980) April 14, 2016
"We need to celebrate more wins." – Eddie Vidal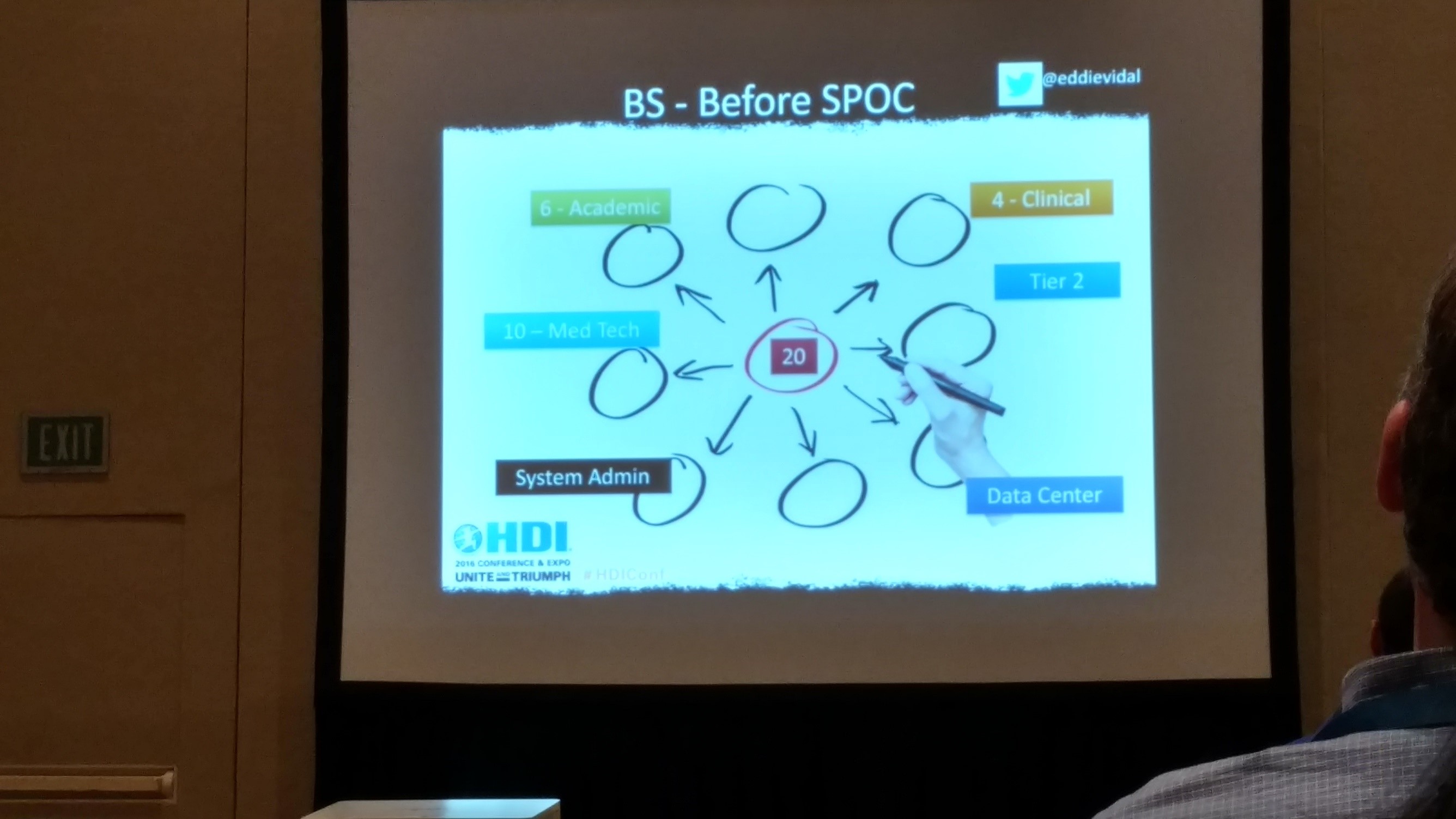 It was hard to believe that day two was coming to an end already. Every seat in the ballroom was taken as attendees waited with bated breath to hear Yossi Ghinsberg's story of survival. We celebrated TECO Energy, winner of the 2016 HDI Team Excellence Award and Ameritas IT GTS Support Center, winner of the 2016 HDI CSAT Elite 50 Award! And then, Yossi took the stage. He taught us that "Dreaming is the blueprint of life.", "Life is pregnant with destiny.", and "Our true power is given to us when we give it to others." His extraordinary story of survival had the entire ballroom on the edge of their seat. A hush fell on the Twitter feed as he took us on a treacherous journey through the Amazon. Everyone in the audience is sure to be first in line for the release of his movie.
"Whatever you do as professionals remember to dream as children." – Yossi Ghinsberg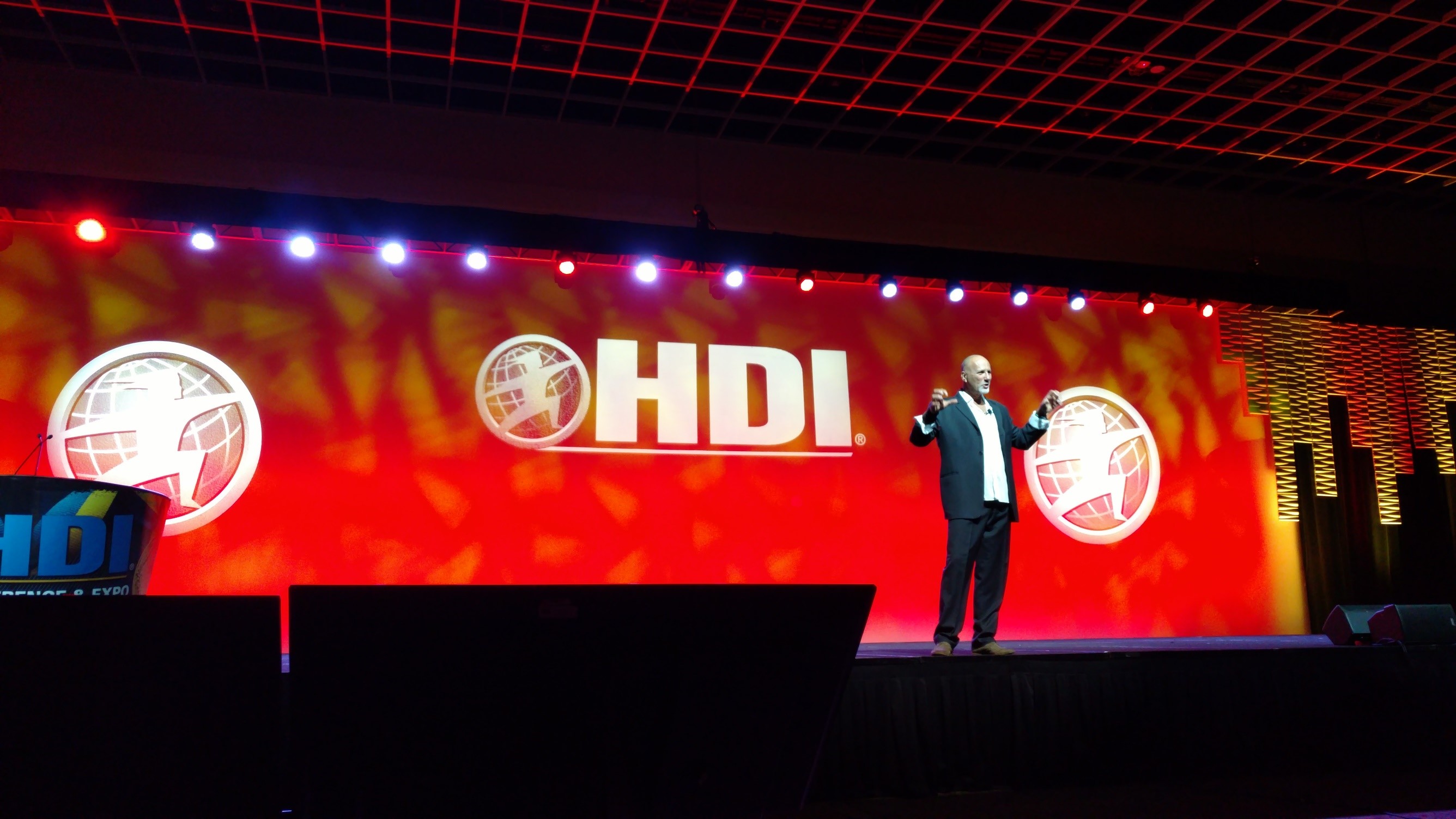 HDI rolled out the red carpet for the conference party. After running through the finish line, party-goers won their very own gold medal. But the fun didn't stop there. Carnival games, tarot card readers, airbrush tattoos, a spectacular photo booth and even a tricycle race track were waiting for the gold medalists in Gatlin D. After some friendly competition and a few group selfies for the Twitterlympics, attendees flocked to the back where they danced the night away to 80s rock played by a very patriotic local band.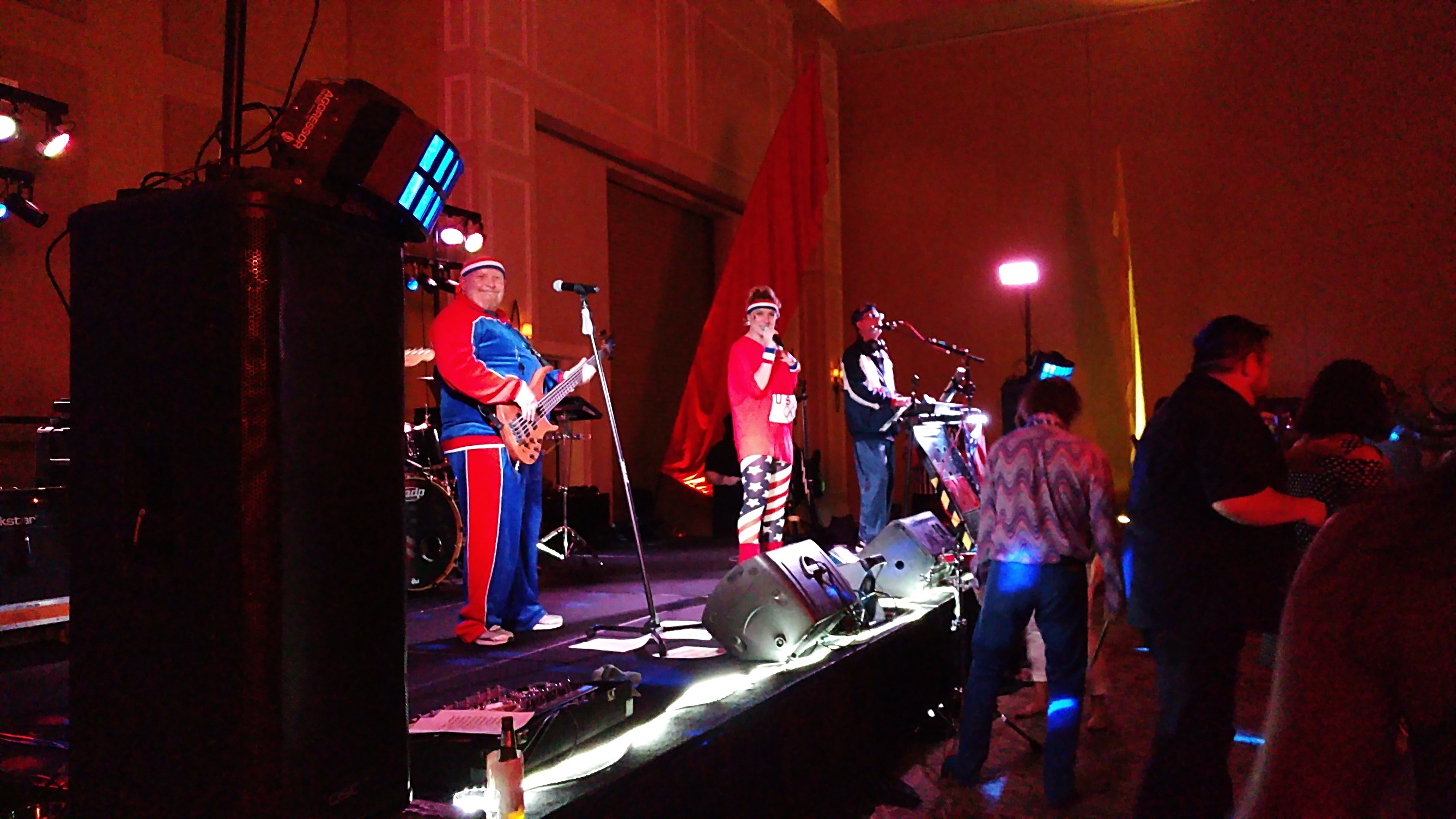 What HDI conference would be complete without seeing Roy Atkinson? Some of you even wanted to bring him home!
It seems @RoyAtkinson is a hot commodity. ? #HDIConf pic.twitter.com/nbp0pwnQnn

— HDI Team (@ThinkHDI) April 15, 2016

We joined him in session 705 where he revealed that >75% of organizations are hiring and 27% of Desktop Support organizations are not only filling open positions, they are actually expanding. He gave us all a new hashtag: #MTTFS – Mean Time to Find Someone who knows something about what you are trying to do. Can you use it in a sentence? And made the audience think when he reminded us that culture eats strategy for breakfast.
"Being a skilled technician now means that you understand the interface between technology and people." – Roy Atkinson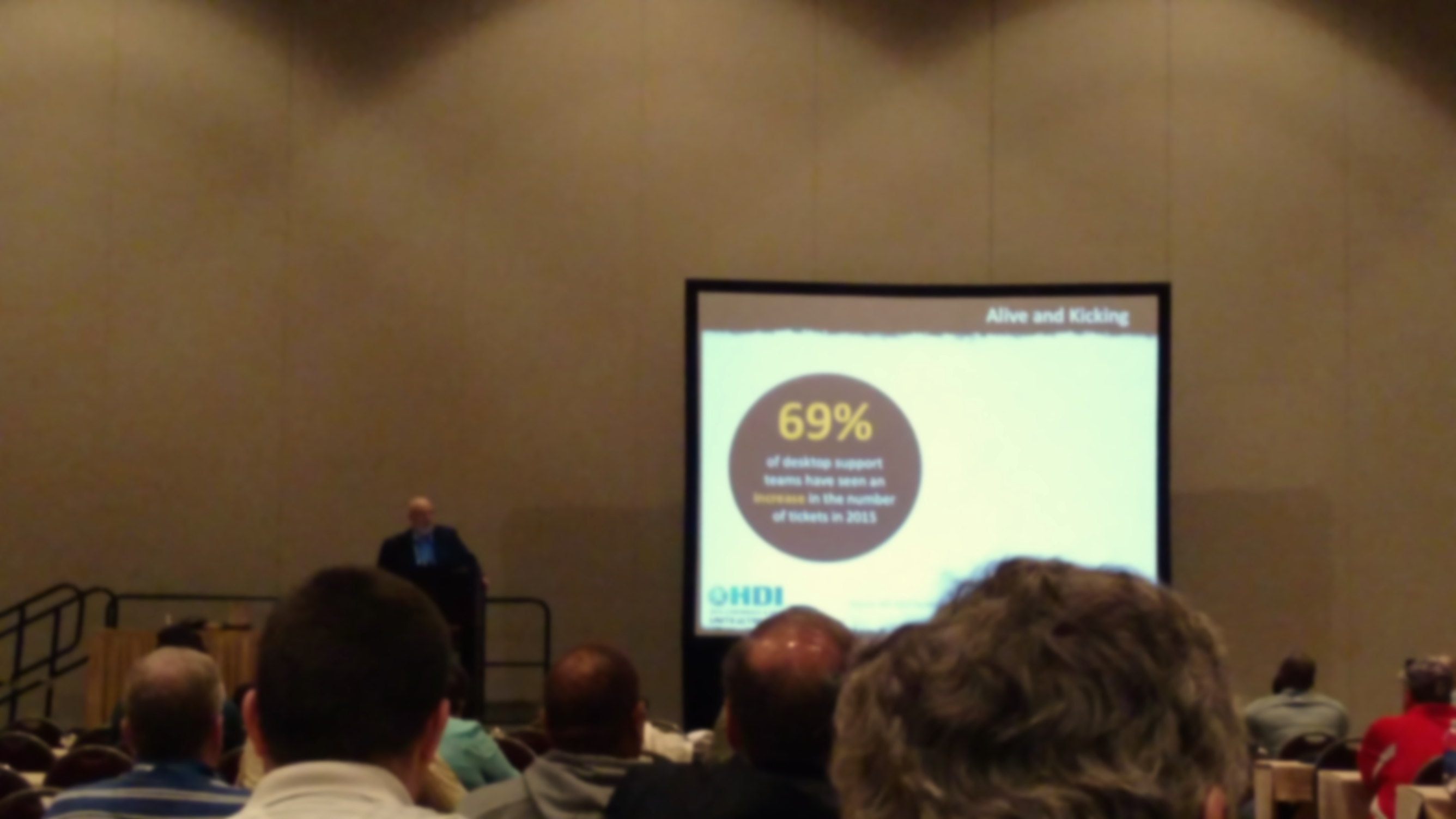 Phyllis Drucker was the last stop on our session block journey at HDI 2016. Formatted as an interactive and discussion guided session, she left the audience with clarity on several metrics conundrums including First Call Resolve. Attendees learned to be cautious with the stories they are telling and now understand that FCR is difficult to measure, but dangerous to ignore.
"Ask yourself: What do I need to measure today to get to x tomorrow?" – Phyllis Drucker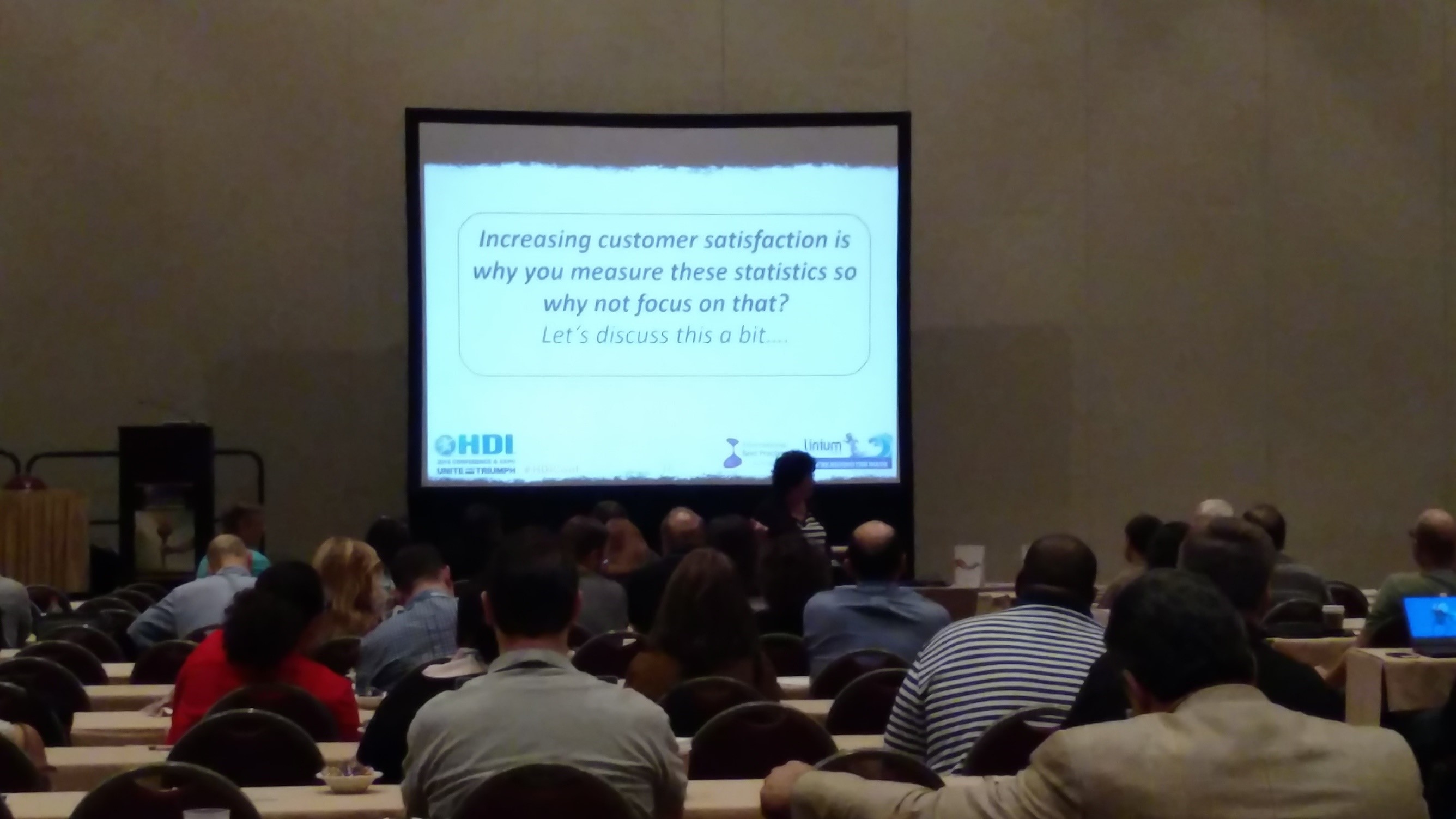 "Delightfully obnoxious" generational expert + humorist, Meagan Johnson, closed out HDI 2016 with an enlightening presentation on zapping the gap. After separating the room by gen y and everyone else, she proved that whenever a new generation enters the work force, the more seasoned generation uses the same words to describe the new generation as the previous generation used to describe them.  Some unforgettable takeaways include "We are always more successful when we have fun.", "It's no longer a corporate ladder, it's now a corporate lattice.", and "It's not about the job it's about the experience."
"Generational signposts bond us to one another." Meagan Johnson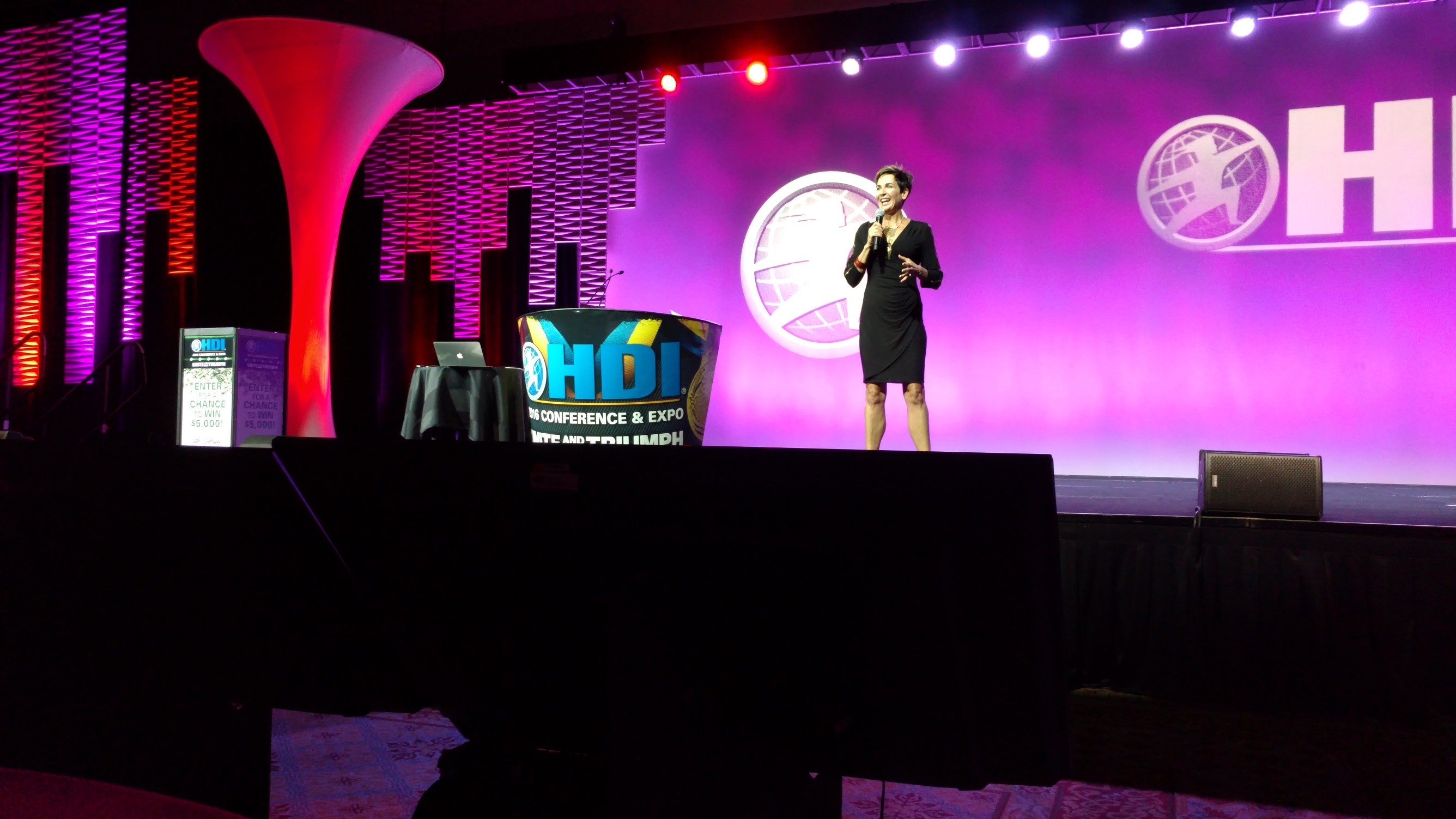 Thanks to the wonderful team at HDI for an unforgettable week of learning, networking and fun! Congrats to Bangladesktop, winner of the Twitterlympics! And, don't forget, in the words of Kirk Weisler, 'when this is all over, it's not all over'. Unite with your peers at Connect.ThinkHDI.com.
Watch the video recap!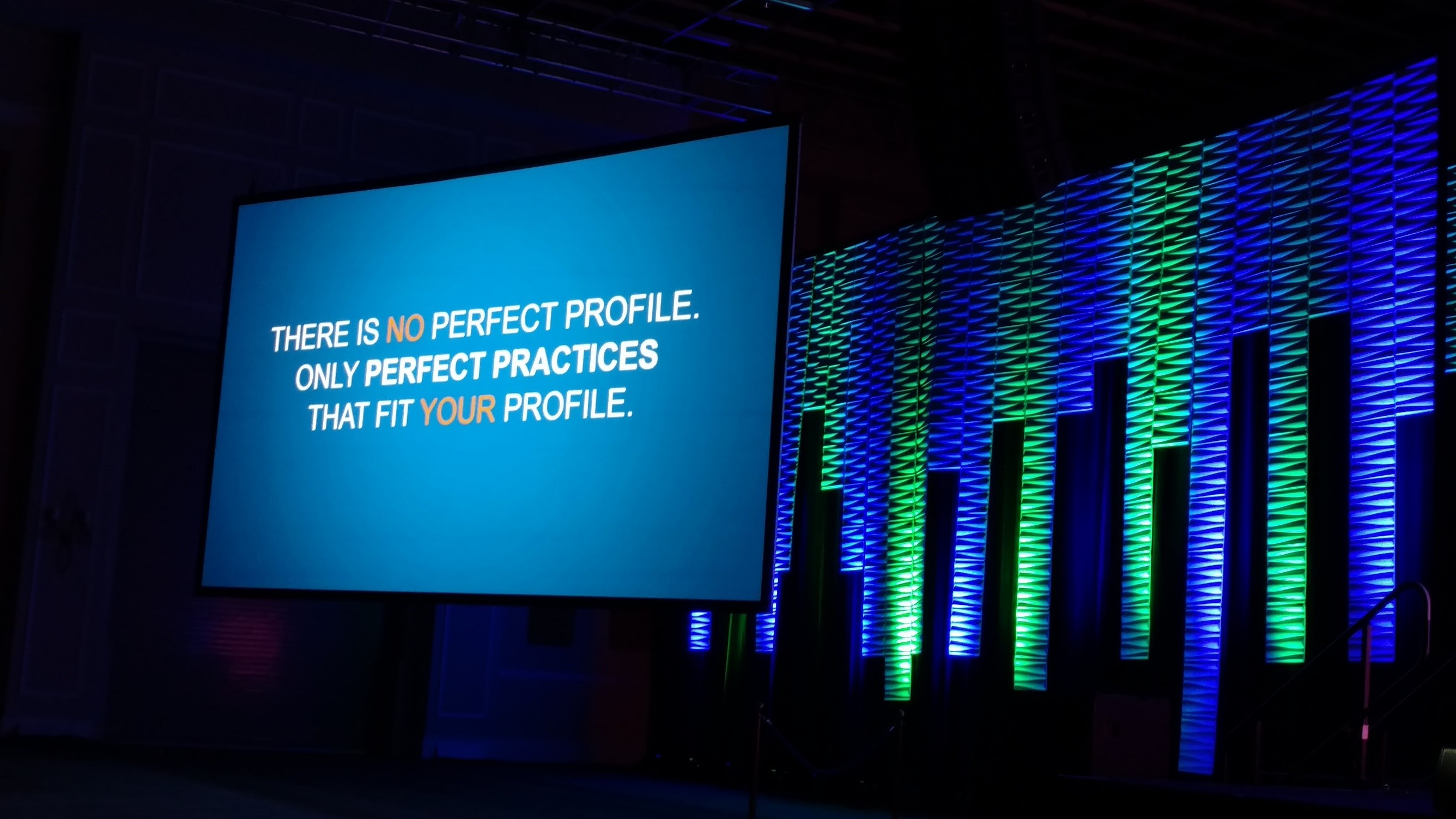 About Author