Metrics, The Linchpin of Continuous Improvement in Service and Support
---
Continuous Service Improvement (CSI) is a noble goal that most IT service and support managers aspire to. But despite all the buzz about CSI, very few IT service and support groups effectively embark upon this journey, let alone fulfill its promise of achieving world-class service and support. Why is this, and what can be done about it?
People, process, and technology are considered the fundamental building blocks of IT service and support. In fact, this refrain has become the default paradigm for managing service and support. The idea is to invest first in your people, through effective recruiting, training, coaching, and career management. Then you build standardized, repeatable processes within an ITIL framework that permit the human resources to carry out their jobs in an efficient and effective manner. Finally, technology is an enabler to automate key processes, reduce cycle times, facilitate user self-help, and maximize the percentage of incidents resolved remotely.
This simple paradigm has intuitive appeal, and most who work in the IT service and support industry buy into it. But what has emerged in the industry in recent years is an even more fundamental building block than people, process, and technology. That building block is metrics, or more accurately, the discipline of performance measurement and management (Figure 1 below). Without an effective metrics discipline Continuous Service Improvement is virtually impossible.
To continue reading, you must become a member. Membership is free and sign-up only takes a moment. Click the sign-up button below, complete the short form and checkout. No credit card is required and your membership never expires!
Figure 1: Metrics Based Paradigm for IT Service and Support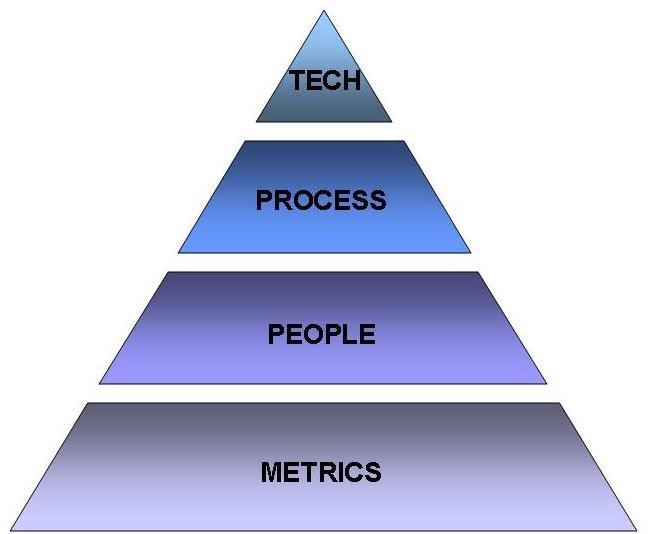 Metrics that Matter!

Today's support technologies and reporting packages make it easy to capture copious amounts of performance data.  Most support managers can tell you everything from last month's average speed of answer to yesterday's average handle time.  But what does it all mean?  If my mean time to resolve goes up, but my cost per contact goes down, is that good or bad?  Is my IT service and support performing better this month than it was last month?
Despite all the data that support managers have at their fingertips, most cannot answer a very basic question: How is my IT service and support function performing?  Perhaps worse, many support managers are unaware of the critical role – beyond mere measurement – that Key Performance Indicators (KPIs) can and should play in IT service and support.  This includes the ability to track and trend performance, identify, diagnose, and correct performance problems, establish performance goals and assign accountability, and most importantly, to drive actions that lead to improved performance.
Many of us have heard the sage advice "You can't manage what you don't measure." This is particularly true in IT support, where effective performance measurement is not just a necessity, but a prerequisite for effective decision-making.  Despite the widespread belief in this statement, few IT service and support organizations leverage KPIs for their full potential.  In fact, MetricNet's research, gathered from literally thousands of IT Service and Support benchmarks, suggests that the vast majority of IT service and support groups use metrics to track and trend their performance – but nothing more!  Unfortunately, in this mode, a support organization misses the real value of performance measurement by failing to exploit the diagnostic capabilities of KPIs, and the call-to-action potential of KPIs.
The true potential of KPIs can only be unlocked when they are used holistically, not just to measure performance, but also to:
Track and trend performance over time
Benchmark performance vs. industry peers
Identify strengths and weaknesses in IT support
Diagnose and understand the underlying drivers of performance gaps
Prescribe actions to improve performance
Establish performance goals for both individuals and IT service and support
Initiate actions that yield long-term performance improvements
The average IT service and support organization tracks more than 25 metrics.  A list of the most common metrics is shown below (Figure 2).
Figure 2: The Most Common Support Desk KPIs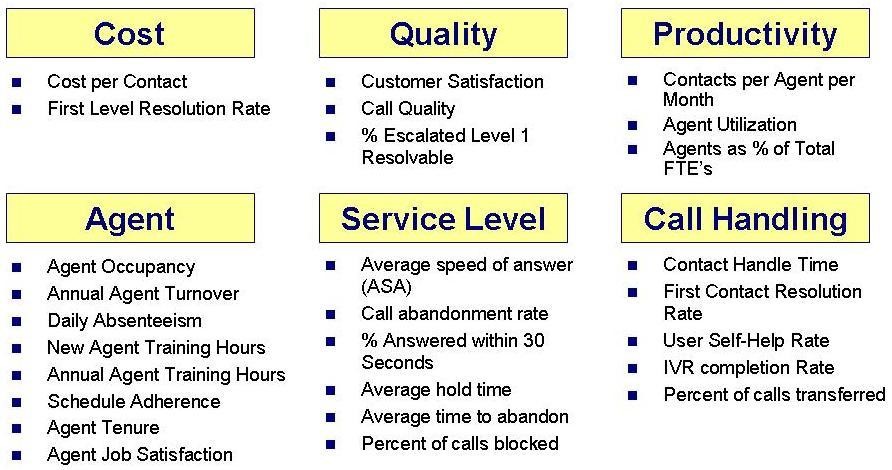 This is a classic example of quantity over quality, where IT service and support groups falsely assume that they are doing something productive by tracking all of these metrics.  The vast majority of these metrics, however, are only marginally relevant – at best!  The seven KPIs that really matter are as follows:
Cost per Contact
Customer Satisfaction
Agent Utilization
First Contact Resolution Rate
First Level Resolution Rate
Agent Job Satisfaction
The Balanced Scorecard
These seven metrics represent the 80/20 rule when it comes to IT service and support performance: 80% of the value you receive from performance measurement and management in your IT service and support organization can be derived from these seven simple metrics!
How do we know these are the most important metrics?  Is it a hunch?  Suspicion?  An academic exercise?  No, it's none of the above.  We know these are the metrics that matter most because the empirical evidence from more than three thousand IT service and support benchmarks supports this conclusion.
When it comes to IT service and support measurement and management, less really is more!  By tracking just seven KPIs, and using these KPIs diagnostically to affect positive change in IT service and support, the job of guiding your IT service and support function towards world-class performance is greatly simplified. Click here for a free downloadable scorecard you can use to begin tracking and trending performance today!
A Proven Approach
MetricNet's research has shown that Continuous Service Improvement initiatives are most successful when they incorporate annual benchmarking, an annual ROI calculation (return on investment), training sessions on metrics and key performance indicators, and the development of standardized reports that convey a simple yet compelling story of IT service and support.  The overall CSI initiative is summarized in Figure 3 below, and is designed as an ongoing program to be repeated annually.
Figure 3: MetricNet's Proven CSI Approach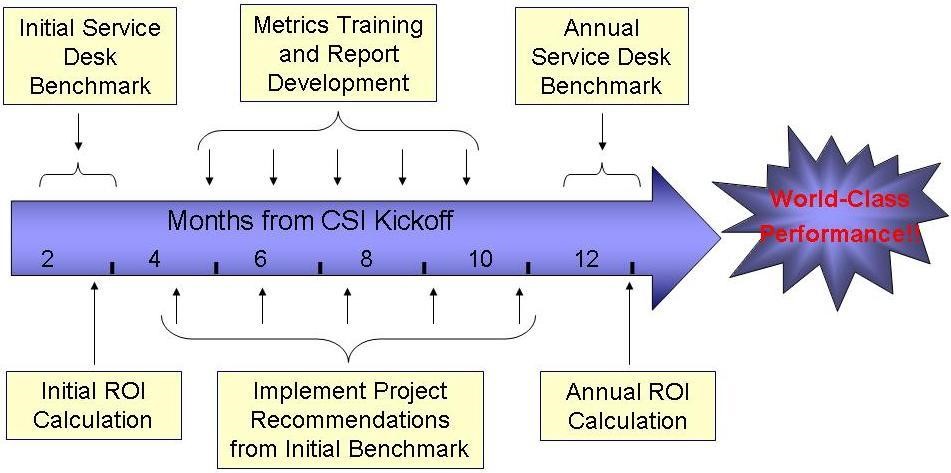 The CSI initiative typically begins by establishing a performance baseline using benchmarking.  The initial benchmark will identify any performance gaps that must be addressed to launch the service and support function on its journey to World-Class performance.
Since process drives performance, a critical component of the benchmark is a process maturity assessment of the service and support function.  The benchmark must not only evaluate and compare the key performance indicators to the benchmarking peer group, but must also evaluate the underlying processes that drive the KPIs.  The process assessment involves comparing service and support workflows, tools, processes and practices, and human resource management to the industry's best demonstrated practices, and assigning a numerical maturity ranking to service and support in each area. This, in turn, enables the service and support organization to identify and prioritize those processes and practices that must be modified or refined to support the organization's migration to world-class performance.
The process assessment completed as part of the benchmark will produce a concrete action plan for modifying, updating or revising service and support processes, procedures, workflows, and work practices to ensure that they are consistent with the industry's best demonstrated practices. When combined with a gap analysis, the service and support organization will have a very powerful roadmap for migrating to world-class performance.
The implementation of benchmarking recommendations begins immediately following the completion of the initial benchmark, and will continue through the second annual benchmark.  The annual benchmarks objectively measure the performance of IT service and support, and demonstrate the progress that has been made year over year.  As part of each annual benchmark, MetricNet recommends that you also calculate the ROI of IT service and support.  The IT service and support ROI methodology, originally developed by MetricNet, determines the net economic contribution made by IT service and support each year (annual return ÷ annual operating expense).  One measure of CSI success can be demonstrated by successive increases in the calculated ROI each year.
During the first year of the CSI program, MetricNet also recommends sponsoring a series of metrics training workshops.  These workshops are designed to create a common understanding of the metrics that really matter in service and support, and provide a platform for an objective discussion of IT service and support performance, improvement initiatives in progress, and the performance trajectory of IT service and support.
The metrics workshops also provide an ideal starting point for in-depth discussions about performance reporting.  Too often in this industry there is general disagreement between service providers and their customers about the relevance and value of the performance reports produced by IT support.  Service and support organizations can preempt this potential source of conflict by developing a set of performance reports that are relevant, easy to understand, and most importantly, prompt actions leading to measurable, continuous improvements in service delivery.
Based upon past experience, it is estimated that the CSI initiative proposed here will enable IT service and support to achieve world-class performance within 12 to 18 months following the initiation of the program.
The Diagnostic Power of Benchmarking
Benchmarking is a well-established tool for measuring and managing IT service and support performance.  Effective benchmarking enables you to quantify the performance of your IT service and support organization, compare your performance to others in your industry, identify performance gaps, and define the actions necessary to close the gaps.
The power of benchmarking is that it enables you to save enormous amounts of time and energy by building upon the know-how of the industry's world-class performers.  Support groups that are focused exclusively on their internal operations tend to make progress incrementally, at an evolutionary pace, through trial-and-error.  But benchmarking forces an organization to look externally – at the best-in-class.  By studying the best-in-class, and selectively adopting practices from the best-of-the-best, IT service and support groups that utilize benchmarking are able to improve their performance at a revolutionary pace.
Although benchmarking is a rigorous, analytical process, conducting a benchmark is relatively straightforward.  The basic approach is illustrated in Figure 4 below.
Figure 4: The Benchmarking Methodology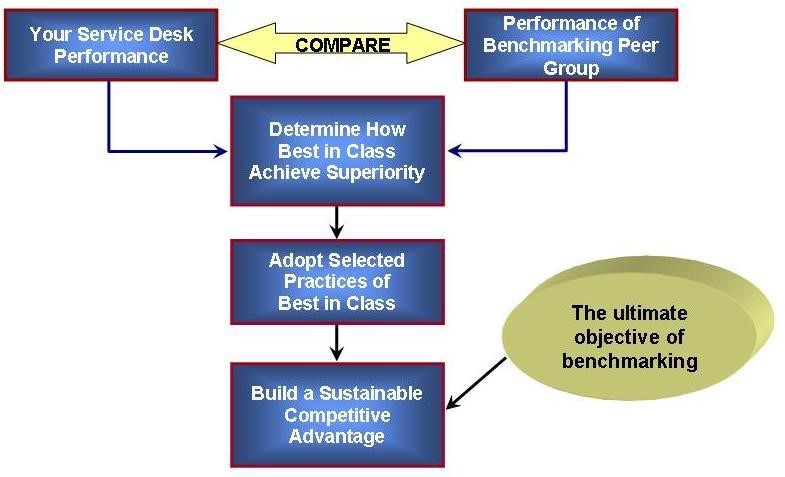 Industry data shows that IT service and support groups that conduct benchmarking at least once a year are far more likely to achieve world-class performance.  In fact, there is a virtual 1:1 correspondence between IT service and support groups that perform benchmarking on an annual basis, and IT service and support groups that achieve world-class performance.  The simple fact is this: benchmarking is not only critical to the success of your CSI initiative, it's also the most effective, proven methodology for bridging the gap to world-class performance for IT service and support groups that are serious about improving their performance.
Ready to get started? Click here to contact MetricNet.
About Author