Tickets per Technician per Month | MetricNet
---
Tickets per Technician per Month is a Desktop Support metric.  As the name suggests, Tickets per Technician per Month is simply the total number of monthly tickets logged by desktop support divided by the number of technicians working in desktop support.
For purposes of this discussion it is important to remember that desktop support tickets are comprised of both incidents and service requests.  An Incident is typically unplanned work that requires the assistance of an on-site technician to resolve.  Common examples include a desktop or laptop computer break/fix, a printer or server failure, connectivity problems, or any other issue that cannot be resolved remotely by the Level 1 Service Desk.  By contrast, most Service Requests represent planned work.  Among the most common Service Requests are Move's/Add's/Change's, hardware refresh/replacement, and device upgrades.  Tickets represent the sum of all Incidents and Service Requests, as illustrated in Figure 1 below.
Figure 1:  Tickets, Incidents and Service Requests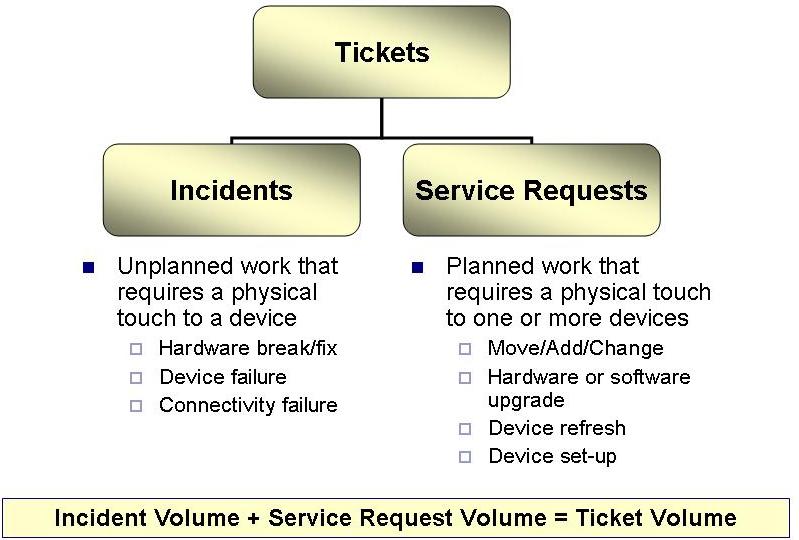 Why it's Important
Tickets are the primary unit of work in desktop support.  As such, ticket volume will drive the headcount of technicians needed by an organization.  A common misperception in desktop support is that the user population alone will define the number of technicians needed.  This approach wrongly assumes that the ratio of desktop support technicians to the number of users is fixed.  For example, 12.5 desktop support technicians are needed for every 1,000 users.  The error in this approach is that no two user populations have the same needs, and therefore no two user populations generate the same workload.  As such, staffing decisions in desktop support should be based upon workload, not user population.  With this in mind, it is easy to see why two organizations with exactly the same headcount may require very different staffing levels for desktop support.

About Author